Recruiting notes: Guerrero, Hollowell, Goff and more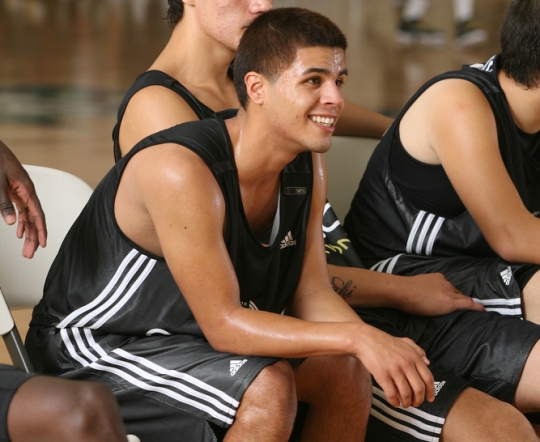 (Photo Credit: Jack Arent/adidas)
+ Dustin Dopirak of The Herald-Times writes that Indiana is targeting 2011 California point guard Cezar Guerrero (pictured), a 6-foot point guard from Bellflower, California. The H-T also posted a mixtape of Guerrero. Korman is gone for a few weeks and now Dustin and Hugh Kellenberger are on a mixtape binge.
+ Jody Demling of The Louisville Courier-Journal noted that Tom Crean would be checking in with Hutchinson (KS) Community College forward Robert Goff this afternoon. Today was the first day of a four-week open contact period.
+ ESPN updated its rankings for 2012 and several players with IU interest are in the top 60. Gary Harris is No. 16, Yogi Ferrell is No. 21, D'Vauntes Smith-Rivera is No. 28, Hanner Perea is No. 42 and Jeremy Hollowell is No. 52. Commit Peter Jurkin is rated No. 53.
+ Hollowell will visit Indiana on September 18 according to Kyle Neddenriep of The Indianapolis Star. The Lawrence Central forward recently sprained his ankle and will be on crutches for two weeks.
+ Excellent piece by our friend Pat Forde of ESPN.com on the Plumlee and Zeller families.
+ Evan Daniels of Scout.com reported that Smith-Rivera is down to six schools: Georgetown, Indiana, Miami (FL), Ohio State, Wake Forest and Xavier. The Musketeers were the only school to check in with Smith-Rivera on the first day of the contact period.
Filed to: Cezar Guerrero, D'Vauntes Smith-Rivera, Jeremy Hollowell, Robert Goff