IU targets strong at end of season showdown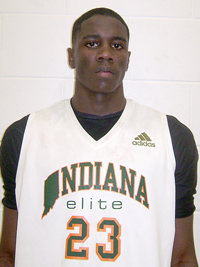 Joe Eberhardt, the editor and creator of Indy Hoops Blog, was in attendance this past weekend at the ChicagoHoops.com End of Season Showdown in Merrillville, Indiana. Also in attendance: A trio of Indiana coaches: Tom Crean, Bennie Seltzer and Steve McClain.
Joe's thoughts and observations on several 2012 and 2013 prospects with IU interest are included in the report below. Follow Joe on Twitter by clicking here.
Class of 2012
Gary Harris, Hamilton Southeastern (IN): Gary showed a complete game this weekend, knocking down jump shots when given space, but going to the rim for buckets too. In a game against Mac Irvin Fire he hit five 3-pointers, and knocked down several mid-range jumpers on his way to a 28-point performance. In a game against the Rockford Ambassadors, Harris attacked the defense primarily off the dribble, scoring 22 points. Perhaps what was most impressive about Gary was his willingness to get after it on the defensive end of the court. He racked up several steals in all his games, and used his length to impact the glass and block a couple shots. There really wasn't much Gary didn't do in Merrillville, showing off athleticism, ball-handling, smooth shooting touch, and game changing defense. Something to keep in mind is that he's doing this all while still recovering from an ankle injury.
Hanner Perea, LaPorte La Lumiere (IN): Perea (pictured) appears to be close to regular form after suffering a nasty ankle injury at the Adidas Invitational in early July. He's still an athletic freak, blocking any shot in his vicinity on defense, and throwing down any possible dunk on offense. His athleticism is so elite that he makes very difficult plays look easy. This weekend he did a great job drawing contact on plays and getting to the foul line. He's got a great free throw stroke for being considered a relatively raw offensive player. Perea did show a few nice flashes of an expanded offensive game this weekend, looking comfortable shooting the mid-range jumper and playing with his back to the basket some. He did knock down a nice hook shot from 7′ out, and while I'm not ready to declare him the most skilled big man of all time, it's encouraging to see him put an emphasis on expanding his game.
Jeremy Hollowell, Lawrence Central (IN): The talented wing player is continuing his strong summer playing with the Eric Gordon 16u AAU team. I'd be lying if I said he was the most productive player on the circuit, but he just has so many tools to impact the game. He's a legitimate 6'7, can handle the ball like a guard, and has the length to impact the glass as well. This weekend he was very aggressive off the dribble, taking opponents to the rim first and knocking down his shot second. He also showed off great athleticism, catching a couple ally-oop dunks and finishing some acrobatic lay ups.
Yogi Ferrell, Park Tudor (IN): This weekend Yogi showed how dominant he can be when his game is firing on all cylinders. He shot the ball well from all over the court, knocking down pull-up jumpers, mid-range shots, and tough floaters in the paint. When the defense creeps up on him he's able to blow by defenders off the dribble and score at the rim. There wasn't much he didn't do this weekend as he scored off the dribble, shot the ball consistently, and pestered opponents on defense. He carried Indiana Elite to victory in one game, scoring four straight baskets and grabbing two steals from his opposition.
Class of 2013
Basil Smotherman, Heritage Christian (IN): Basil's known as a great long range shooter, but he's beginning to show improvement in other parts of his game. He can take opponents off the dribble and score, and is beginning to perfect the left-handed floater in traffic. Several times this weekend he drove the ball left, and instead of ramming into a violent defender, he pushed in a nice floater anywhere from 4′-7′. His increased willingness to drive the lane also led to plenty of free throw opportunities, where he knocks them down with a pure stroke. As he continues to be more aggressive driving the ball, he'll only increase the productivity of his game.
Devin Davis, Warren Central (IN): This weekend Davis showed off versatility and the ability to do a little bit of everything. He's usually one of his team's primary scorers, but isn't afraid to mix it up as a rebounder and shot blocker. With Smotherman and Zak Irvin doing the scoring against MBA Select, Davis handled the glass, pulling down 10 rebounds. People familiar with Devin's game know he is a tenacious rebounder, but he's been improving and expanding his game all sumer long. This weekend he showed the ability to knock down perimeter jumpers, score off the bounce, and mix it up inside in a physical game. He's one of the best athletes in Indiana's 2013 class, and he uses that to his advantage on the boards as well as on offense. It will be interesting to see how he continues to develop his game between now and the high school season.
V.J. Beachem, Ft. Wayne Harding (IN): Beachem joined up with the Eric Gordon 15u team this weekend. Beachem is well known for having a boatload of potential, and this weekend he showed off many of his versatile skills. At 6'6 he's got good size for a wing, and also has the length that lets him play big down low. He's got so many ways to impact the game, and showed off a little bit of everything this weekend. He's got feathery touch on his shot, good control of the ball off the bounce, great athleticism, length, and nice lateral quickness. This weekend he knocked down some jumpers, threw down acrobatic dunks, made his presence felt on the glass, and disrupted opponents on defense. He definitely needs to get stronger and play with more overall consistency, but there is no denying his talent and upside.
Zak Irvin, Hamilton Southeastern (IN): What impresses me about Zak isn't how many points he scores, but rather the way he scores them. He does the things young players often forget, like using the glass and shooting the mid-range well. He shot the ball well this weekend and showed toughness attacking the basket off the bounce, just one week after fully recovering from a concussion. Zak is a really smooth player, and often makes things look easy on the court. His coaches have raved about how he has improved throughout the AAU season, and it is definitely showing in his play.
(Photo credit: Rivals.com)
Filed to: Gary Harris, Hanner Perea, Jeremy Hollowell, Yogi Ferrell