Adidas Invitational: Day One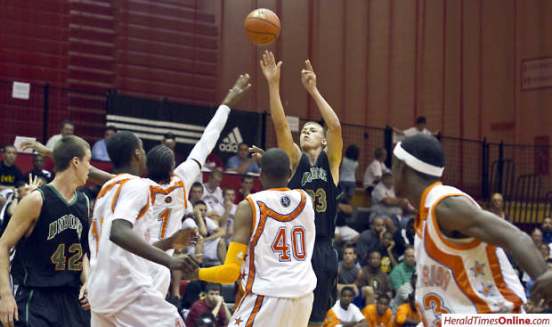 (Photo by Ray Whitehouse of the The Herald Times.)
INDIANAPOLIS — The July evaluation kicked off Tuesday at North Central High School with a star studded cast of college coaches.
Among those spotted for a late morning matchup between Indiana Elite and Dream Vision were Tom Crean, Tony Bennett, Mike Krzyzewski, Roy Williams, Rick Pitino, Thad Matta, Sean Miller, John Beilein, Ben Howland, Bob Huggins, Jamie Dixon, Brad Stevens, Bruce Weber, Josh Pastner and Bill Self.
Indiana Elite, which features Cody Zeller, Jeremiah Davis, Marshall Plumlee, Austin Etherington and Yogi Ferrell, beat California-based Dream Vision, led by 2012 five-star guard Shabazz Muhammad, 69-64.
Zeller was brilliant early, scoring Elite's first three buckets with a jump shot, a dunk and a right hook. The 6-9 Washington forward said afterward that he'll continue to stay the course on his recruitment and added that North Carolina has not offered a scholarship.
Davis was solid, but not spectactular. The one question on Davis that still needs to be answered is whether he'll play the point or off the ball at the next level. One glaring omission from the crowd was Michigan State, who was at one time believed to be the team to beat.
Ferrell continues to show why he's one of the best playmakers available in the 2012 class. His ball handling is a huge strength, his court vision is excellent and he knocks down shots when given room.
Etherington struggled for most of the game, but came up with a key deflection late to help seal the victory.
Muhammad, who played in another high-profile matchup in the afternoon against the Dallas Mustangs and 2011 five-star forward Le'Bryan Nash, is a smooth lefty from Las Vegas that can fill it up.
Tuesday was our first look this year at NBA Top 100 camp MVP Chane Behanan and our first ever look at Brewster Academy and NE Playaz point guard Naadir Tharpe. Behanan is an undersized power forward that can muscle his way to points in the paint. Tom Crean watched Behanan play for a while, but was not in the crowd after the game when Behanan reeled off a list of coaches he noticed watching.
Tharpe is a pure point guard with a solid handle. He told a group of reporters that Indiana continues to evaluate him and will decide soon whether to offer a scholarship. 7-0 center Kaleb Tarczewski, a 2012 recruit and Tharpe's NE Playaz teammate, said Indiana is "high" on his list of schools.
In a late afternoon game at Northview Middle School, the Indiana Elite 16's prevailed without the services of Hanner Perea (ankle) and D'Vauntes Smith-Rivera (knee). Smith-Rivera said he recently picked up offers from Miami (FL), Wake Forest and Ohio State and could return in 4-6 weeks, but added that he'll take his time to ensure he's 100 percent.
We finished the evening with our second viewing of Indiana Elite in pool play against the Dallas Mustangs and Nash. Zeller turned in another outstanding effort as he threw down a couple of monsterous dunks and finished with 18 points. Etherington also scored 18 points and said he felt 100 percent. The Hamilton Heights guard knocked down a few 3-pointers and hit eight free throws. Davis added 15 and Ferrell had 14 in the 75-70 win. Indiana coach Tom Crean watched the final few minutes of the first half and the second half.
Filed to: Austin Etherington, Cody Zeller, Yogi Ferrell