Jeremy Hollowell talks Indiana, Ohio State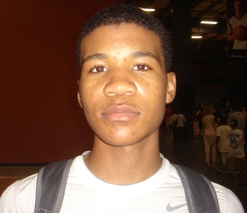 Jeremy Hollowell, the versatile 6-7 wing in the 2012 class from Lawrence Central in Indianapolis, fielded numerous calls this week as June 15 marked the first day college coaches could call juniors-to-be per NCAA rules.
In addition to hearing from Tom Crean, Hollowell also heard from three new schools — Florida, Michigan and Southern Illinois — as well as Ohio State, Tennessee, Illinois, Xavier, Cincinnati, Indiana State and Miami (FL).
The message from Crean continues to stress the opportunity to be a part of something special in Bloomington.
"He just keeps telling me to keep working," Hollowell said. "He'd like to use me as a 2-3-4, somebody he can interchange and play multiple positions and also guard multiple positions. He also talks about the tradition, how our class is real important and bringing it all back together."
Hollowell, who plays for the Eric Gordon All-Stars, said that the chance for immediate minutes could help the Hoosiers.
"It can help a little in a certain way," he said. "You get a chance to go in and play right away."
Another school that figures to be a factor with Hollowell is Ohio State, where he's visited several times and recently played pickup games with National Player of the Year Evan Turner and Jared Sullinger, who will be a freshman next season.
"I like Ohio State," Hollowell said. "I'm from Ohio so I grew up watching them a lot. I used to like watching them when Mike Conley and Greg Oden were there. The coaches are pretty cool. They're real good guys. I really like the school and the coaches."
Filed to: Jeremy Hollowell