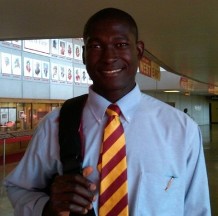 Some of you might be surprised and others not, but Bawa Muniru is leaving the IU basketball program. The details are in this release:
BLOOMINGTON, Ind. – Indiana University men's basketball coach Tom Crean has announced that center Bawa Muniru will leave the men's basketball program and look to transfer to another institution where he can receive more playing time.  He will have three years of eligibility remaining.

He saw action in just 19 games a season ago and averaged 3.3 minutes per game.  He averaged 0.6 points and 0.7 rebounds.

"As a staff, we think the best thing for Bawa is to go to a program where he can play and continue his education," said Crean.  "His desire for more playing time was very evident and we told him that his best opportunity to play the minutes he wanted to was likely going to have to happen somewhere else."

Muniru will finish his summer coursework at IU.

"I feel it is in my best interests to pursue my basketball career somewhere else," said Muniru.  "I have appreciated my time at Indiana."

"We always want to give our players the best opportunity for growth as a player and as a person," added Crean.  "He has worked extremely hard in the classroom and we appreciate all that he has done in representing the program."
Tom Crean further expanded on the announcement via Twitter, saying "It is with regret that his future will not be at IU. He deserves to have an opportunity to gain the minutes that he needs to achieve his dreams. In all reality, that was more than likely not here. Selfishly we would not want him to go, but he needs minutes and a chance to grow on the court."
"He needs to develop a feel for the game that comes through playing him a lot of minutes. Redshirting him last year was not going to help that feel develop." Crean goes on to say his recommendation for Muniru would be junior college, to gain said significant minutes.
So there you have it. We might hear it a bit more chatter at some point this season on Muniru, but I would imagine any answer from anyone would take on this general tone. This also, of course, frees up one more scholarship for the 2011 class, but I'm sure none of you needed me to tell you that.
The one thing that strikes me about Muniru is how much apparent work went into getting him to IU, just to see him leave a year later with relatively little return. There was a protracted episode regarding his academic standing, and whether he would be cleared to play as a freshman. But he only played in 19 games and averaged just over three minutes per game. Anyway, it's water under the proverbial bridge now. Let the scholarship debate rage once more.
Filed to: Bawa Muniru, Tom Crean