Trio of 2013 talents grab early offers from IU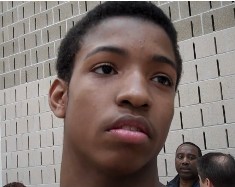 As the recruiting game continues to place an emphasis on identifying talent at an early age, the Indiana staff is hitting the ground running with the class of 2013.
A trio of AAU teammates — Hamilton Southeastern's Zak Irvin, Heritage Christian's Basil Smotherman and Warren Central's Devin Davis (pictured) — have been offered scholarships by Indiana.
"No one can say that Coach Crean isn't putting the emphasis on Indiana kids now," Matt Green, who coaches the group on the Eric Gordon All-Stars, told Inside the Hall. "He's going after the top kids in that class."
According to Green, Davis was offered on an unofficial visit to Bloomington last month while Irvin and Smotherman picked up offers at this past weekend's Elite Camp.
The 6-6 Davis and 6-4 Smotherman both started varsity on their high school teams this past season, but Irvin, a 6-4 guard, has yet to log a minute above the junior varsity level. Still, the IU staff saw the potential to give Irvin the early offer, which was his first.
"With Irvin, it's a little different because he didn't play any varsity. He's played good in the spring," Green said. "Coach Crean puts his eyes on him at Elite Camp and likes what he sees. Some could say he pulled the trigger early with him never having varsity time and some could say he winds up being a legit, very-high profile kid and hey, he rolled the dice and got it right."
Here's a quick breakdown of the trio from Green:
"Devin Davis is your Mr. Everything. He's a great rebounder, he's a slasher. He gets a lot of baskets in the paint. He consistently plays with a high motor."
"Basil is a perimeter threat. At any point in time he can get it going and start killing you from the outside. His mid-range game is getting a lot better."
"Zak is a streaky shooter. He gets it going and he can bury you. He's probably got the best mid-range game of all of them."
Filed to: Basil Smotherman, Devin Davis, Zak Irvin