So, what's the plan for 2011?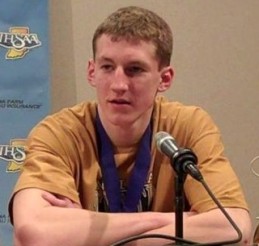 With Austin Etherington committed and just one scholarship remaining (two if you count the over-sign), the construction of the 2011 recruiting class will be a prime storyline to follow this offseason. Let's take a deeper dive into whom Indiana is recruiting for this pivotal class:
– Cody Zeller: IU's need for a versatile big man who can play could be filled by a prospect who resides just 62 miles southwest of Bloomington. The 6-11 Zeller, who led Washington to a 3A state championship with a dominating 20-point, 26-rebound performance, is blossoming into a legitimate five-star prospect. Zeller continues to keep a tight lid on his recruitment and will likely take several official visits in the fall before reaching a decision. Indiana, along with Butler and North Carolina, are considered the schools to beat. If there's a 2011 recruit Indiana can't afford to miss out on, it's the prohibitive favorite for 2011 Mr. Basketball: Cody Zeller.
– Jeremiah Davis: Landing Davis, a powerful 6-3 guard who can play on or off the ball, could actually be better long term for a program trying to establish stability than a one-and-done talent like Marquis Teague. The Muncie Central guard was once considered a Michigan State lean, but Indiana has turned up the heat on Davis and might be the school to beat along with Cincinnati. Davis has talked about rooming with Etherington in college, but is staying the course with his pledge to hold off on a decision until he, in his words, "finds the right fit." If Zeller is priority No. 1 for IU, Davis is 1A.
– Aaron Thomas: Thomas, a 6-5 scorer from Cincinnati, was named the Cincinnati Metro Athletic Conference Player of the Year as a junior as he averaged 22.1 points per game. He's yet to receive a scholarship offer from Indiana, but told us last month that he was "pretty high" on the Hoosiers. West Virginia, Michigan, Cincinnati, Louisville and Ohio State are also recruiting Thomas.
– Nic Moore: The 5-9 point guard from Warsaw has yet to receive an offer from a high major school, but that could change quickly if he performs well come July with Spiece Indy Heat. He can flat out score, but needs to work on getting into the lane and dishing off to complete his game. Indiana continues to evaluate Moore, but whether or not that interest blossoms into an offer remains to be seen.
– Other names to keep an eye on: Jarrod Uthoff, a 6-8 forward from Cedar Rapids (IA), recently visited Bloomington and has an IU offer according to Rivals.com. Mitch McGary, a 6-9, 240-pound forward from Chesterton, has drawn interest, but does not have an offer.
– Unlikely, but worth mentioning: Branden Dawson, Damien Leonard and Marshall Plumlee. Dawson, a 6-6 five-star forward from Gary Lew Wallace, is expected to choose from Purdue, Michigan State, Marquette and UCLA in September. Leonard, a five-star guard from Greenville (SC), told TigerIllustrated.com last month that IU was among his top five schools. Meanwhile, Plumlee, who has two older brothers at Duke, reportedly has a top four of the Blue Devils, Michigan, Virginia and Wisconsin.
Filed to: Aaron Thomas, Cody Zeller, Jeremiah Davis, Nic Moore