Crean confirms Steve McClain will be new assistant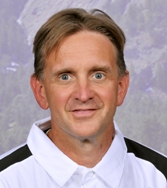 The search for the vacant assistant coach position is over.
Indiana head coach Tom Crean confirmed Wednesday afternoon to multiple media outlets that former Colorado associate head coach Steve McClain will join the IU staff.
According to Dustin Dopirak of The Herald-Times, McClain could be announced at a press conference in Bloomington on Friday.
Former IU assistant Roshown McLeod, who was fired prior to the last week of the season, was recently named the new head coach at St. Benedict's High in New Jersey.
The full press release issued by IU is available after the jump:
Indiana University men's basketball coach Tom Crean has announced that Steve McClain, who boasts more than 28 years of coaching experience on the collegiate level, has joined the Hoosiers staff as an assistant coach, effective immediately.

"It means a lot to me to be able to bring in someone with the knowledge, experience and aggressiveness of Steve McClain," said Crean. "I have admired him for how hard he works and for how hard his teams, especially at Wyoming, played. He brings a toughness to our program that has shown in those who have played for him, and he carries that same mindset over into recruiting."

McClain comes to IU after spending three seasons at Colorado, including the last two as associate head coach. During his time there, he played a prominent role in rebuilding the CU program and served as acting head coach during the absence of head coach Jeff Bzdelik for a portion of last season which saw CU finishing 15-16, including seven losses by six points or less. In addition, junior guard Cory Higgins earned All-Big XII honors and freshman guard Alec Burks was named Big XII Freshman of the Year.

"I am excited to have the chance to walk into a building with five banners and be a part of a program that believes that what is on the front of the chest means much more than what is on the back of the jersey," McClain added. "That is what college basketball is all about."

During his career as a coach, he has worked firsthand with several players who went on to play with or were drafted by NBA teams, including Kurt Thomas and Lee Nailon at TCU, Justin Williams and Josh Davis at Wyoming, Ben Davis and Shaun Vandiver at Hutchinson CC, and Harvey Grant at Independence CC.

"He has had a huge part in the development of so many outstanding players and we are excited to get him started with our program," noted Crean. "He has hit the ground running in his first day on the job and with as much energy as I like to have, he brings that and then some. Indiana basketball is very fortunate to have him here."

Prior to his time in Boulder, the 1984 graduate of Chadron State College served as the 19th head coach at the University of Wyoming from 1998-2007. For nine seasons, McClain led the Cowboy program through one of its most successful periods in school history, posting the fifth highest winning percentage in school history (57.7 percent) and achieving a 157-115 record, averaging 17 wins per season through his nine years.

"I'm really looking forward to being able to work with Tom and this staff," said McClain. "Our philosophies are exactly on the same page in terms of how you ought to play and the toughness it takes to win a championship. Whether it's what you do in the office or what you do on the court that day, how you go about things determines how quickly you can reach that goal and Tom and I share the same beliefs."

In four of his nine seasons, Wyoming appeared in postseason play, advancing to the second round in each of the 1999, 2002 (NCAA) and 2003 seasons. They also played in the first round of the 2001 NIT. In conference play, McClain's teams captured two of the first seven Mountain West Conference titles, sharing the title for the 2000-01 season and winning it outright in 2001-02. The outright title in 2001-02 was Wyoming's first outright championship in 20 years. Overall, the Cowboys finished in the upper half of the league in six of McClain's nine seasons.

McClain, 47, coached two All-Americans during his stint Laramie. Josh Davis was an Associated Press Honorable Mention All-American in his senior season of 2001-02. Prior to the 2002-03 season, Marcus Bailey was one of only 50 players nationally named to the John R. Wooden Award Preseason All-America team.
In five of the nine seasons that McClain coached in the MWC, at least one Cowboy earned All-Mountain West Conference first-team honors: Josh Davis (1999-2000 and 2000-01); Marcus Bailey (2000-01 and 2001-02); Uche Nsonwu-Amadi (2002-03); Donta Richardson (2002-03) and Jay Straight (2004-05).

The high point of the Cowboys' return to national prominence was Wyoming's appearance in the 2002 NCAA Tournament, marking the school's first appearance since 1988. It was in that season that McClain engineered one of his best Cowboy teams, earning Coach of the Year honors from his fellow coaches, winning a school-best 22 victories (the most since 1987-88) and advancing to the second round of the NCAA Tournament.

His 2001-02 Cowboy squad broke two of the nation's longest winning streaks. With its 73-66 win over No. 6 Gonzaga in the opening round of the 2002 NCAA Tournament, Wyoming broke the Bulldogs 14-game winning streak, a then-school record. Earlier in the year at Utah, the Cowboys defeated the Utes 54-46, breaking Utah's 48-game home win streak against conference opponents, which was the longest conference winning streak in the country.

In the 2000-01 season, McClain earned Mountain West Conference Coach of the Year honors from CollegeInsider.com, and garnered the same honor from MWC media members for the 1999-2000 season.

McClain and his Wyoming teams won 18 or more games five times with a trio of consecutive 20-win seasons from 2000-2003, marking the first time three straight 20-win seasons had been accomplished in 15 years on the Laramie campus.

Also during his nine seasons, the Cowboys defeated three Top-25 ranked opponents — No. 20 TCU on Jan. 14, 1999; No. 24 Utah on Feb. 28, 2000; and No. 6 Gonzaga on March 14, 2002.

His Wyoming squads were consistent contenders in the conference race during his tenure. UW finished in the top half of the conference in six of McClain's nine seasons there.

Prior to his head coaching experience in Wyoming, McClain was an assistant at Texas A&M in 1998, then served as an assistant coach at Texas Christian University from 1994-98. While at TCU, McClain helped lead the Horned Frogs to a Top-25 ranking an NCAA Tournament appearance in 1998 under head coach Billy Tubbs. During his tenure there, Nailon became just the third player in NCAA history to lead the nation in scoring and rebounding in the same season.

The year prior to Tubbs' staff taking over in Fort Worth, TCU posted a record of 7-20. Three years later, the Horned Frogs posted a 22-13 record, advanced to the Championship Game of the 1997 Western Athletic Conference Tournament and played their way into the Second Round of the National Invitation Tournament. In 1998, TCU joined the elite programs in the country, posting a 27-6 record and leading the nation in scoring at 97.2 points per game.

The Horned Frogs earned an NCAA Tournament bid in 1998, and ended the season ranked No. 15 in the final Associated Press poll. TCU also became the first team in Western Athletic Conference history to go undefeated in league play, posting a 14-0 record in 1998 on way to winning the WAC Pacific Division title.

Not only did McClain enjoy success as an assistant coach, but also he brought to Wyoming an outstanding record as a head coach. In 1994 as the head coach at Hutchinson Community College in Hutchinson, Kan., he won the National Junior College Championship in only his third season, and was named the National Junior College Coach of the Year.

At the junior-college level, McClain compiled a 91-16 (.850) record in three seasons, and his teams were known as high-scoring squads. His 1994 National Championship team averaged 90 points per game on way to a 35-4 (.897) record. In 1992-93, the Hutch Dragons compiled a 29-5 (.853) record, averaged 92.6 points and ended the season ranked No. 11 in the NJCAA. His first season as head coach, 1991-92, Hutchinson posted a 27-7 (.794) record.

Prior to becoming head coach at Hutchinson, McClain served as an assistant coach there for five seasons, helping guide the Dragons to the 1988 NJCAA National Championship. Before coaching at Hutchinson, he was also an assistant coach at Independence Community College in Independence, Kan. (1985); Sioux Empire Junior College in Iowa (1984); and his alma mater Chadron State College in Chadron, Neb. from 1982-84.

"I know growing up in the Midwest, I understand the importance of Indiana basketball and what it means to an entire state," added McClain. "Having brought a team to Bloomington while I was at Wyoming, I have experienced firsthand the passion of the fans and their interest in everything that goes on with the Hoosiers. Having known Tom a long time as a colleague and friend, it is a great opportunity for me to come in and be able to help them rebuild this great program."

Born August 15, 1962, McClain is a native of Orient, Iowa, and is married to the former Kim Van Asselt of Hutchinson, Kan. They are the parents of a son, Dylan (8).

"We have had a friendship for many years and loyalty and trust is the cornerstone of any relationship," said Crean. "We know that Steve will add to what already is an outstanding staff."
Filed to: Steve McClain