2011 wing Aaron Thomas high on the Hoosiers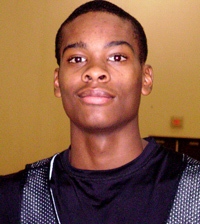 Schools looking for a big-time scorer in the 2011 class are beginning to take notice of Cincinnati Aiken's Aaron Thomas.
Thomas, a 6-4, 185-pound wing, was named the Cincinnati Metro Athletic Conference Player of the Year as a junior as he averaged 22.1 points per game.
He shot over 56 percent from the field, 82 percent from the foul line and had four games with more than 30 points. Aiken finished the season 14-8.
"My high school season went well," Thomas told Inside the Hall. "I was second in the city in scoring, but we lost in the second round and didn't go as far as we did last year."
The Indiana coaching staff began to take interest in Thomas last summer as he suited up for the Queen City Prophets and the interest has continued to blossom from both sides.
While Thomas didn't get a chance to visit Assembly Hall last season, he did visit Bloomington last fall for a football game.
"I'm pretty high on them," he said of Indiana. "Coach Tom Crean has history. He taught Dwyane Wade. And basketball's the biggest sport in Indiana. I'd like to be a part of that."
Thomas noted that he hears mostly from Crean himself and is also being recruited by West Virginia, Michigan, Cincinnati, Louisville and Ohio State.
He does not, however, have a timetable for a decision.
Indiana fans will have several opportunities to watch Thomas this spring and summer as the Queen City Prophets are expected to participate in the adidas May Classic (Bloomington), adidas Invitational (Indianapolis) and the Kentucky Hoopfest (Louisville).
(Photo credit: Rivals.com)
Filed to: Aaron Thomas