An update on 2013 Jeffersonville guard Darryl Baker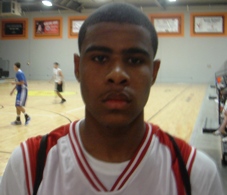 Darryl Baker is back.
After missing his entire freshman season at Jeffersonville with a broken bone in his right leg, the 6-2, 190-pound Baker returned to the court this past weekend at the IndyBall.com Shootout in Indianapolis.
And Baker and his teammates did not disappoint as Team Southern Indiana Red, coached by former IU guard Sherron Wilkerson, took home runner-up honors in the Silver Bracket (16U). The 15-year old guard scored 27 points in his first game of the spring.
"He played really well," Wilkerson told Inside the Hall of Baker's effort in his return. "I think he's still gotta get his conditioning back and also, mentally, he has to retrain himself to trust that leg again. I think that's probably something he fights for a while, but it just depends on the individual how quickly it dissipates."
Baker, who is regarded as one of the top class of 2013 prospects in the state and has visited Bloomington several times over the past year, recently received his first scholarship offer from Xavier.
He's also hearing from the Hoosiers, Purdue, Michigan State, Ohio State and Butler and will likely split time this spring and summer between the point and off-guard positions.
But ultimately, his greatest potential might be creating opportunities from the wing, according to Wilkerson, a former Mr. Basketball and McDonald's All-American who coached this past season at Herron in Indianapolis.
"I really like to say that he would be deadly on a wing," Wilkerson said. "Maybe a 2 or 3. That being said, he could potentially play some point guard. But I think his strongest attribute is being able to catch it while he's moving. I think that any time a person of his athleticism and of his strength can catch it and catch it on the move, it makes them that much more difficult to guard and it doesn't allow the defense to set up as quick."
Filed to: Darryl Baker