Catching up with Austin Etherington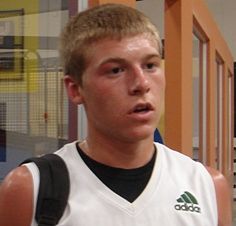 Bleary-eyed reporters covering seemingly-endless hours of basketball with the Final Four 51 weeks away can only mean one thing: AAU season is officially on rock-and-roll.
Our good friends at the H-T, being both intrepid and equipped with constitutions of steel, were all over the IndyBall.com Shootout this weekend at North Central High School, where they got a look at plenty of prospects, including Bloomington South's T.J. Bell, Muncie Central's Jeremiah Davis and Hamilton Heights wing Austin Etherington.
Now IU's lone commitment in the class of 2011, Etherington made an impression with 12 points against a Spiece team that Indiana Elite defeated 73-72. (By the way, I'm getting these stats from the venerable Hugh Kellenberger, via the above-linked post. I was covering Notre Dame baseball all Sunday.)
A busy summer lies ahead of Etherington, who said he's pretty much willing to go wherever his Indiana Elite program wants him to, and he'll do so in good company. Sunday at IndyBall, he plied his trade with many of the usual premiere Elite players, including Matt Carlino, Davis and Cody Zeller.
Despite the long layoff since his high school season ended on March 5 , Etherington said everyone felt good playing together pretty quickly.
"It didn't take long for us to start playing together and get used to each other," he said, noting that his Elite squad won the Shootout championship in overtime of the title game.
There's going to be plenty of focus on the Elite program (not that there wasn't before) this summer from all over the country. IU fans in particular have cast many a hopeful eye over players like Davis and Zeller, hoping that Tom Crean can lock in some of the state's best recruits, closing off the proverbial border and bringing some of Indiana's best talent back to the big state school.
Butler's run to the national title game, predictably enough, has led to plenty of speculation that the Bulldogs are poised to reap their share of the spoils as well, perhaps at the expense of the rebuilding Hoosiers. Etherington has been the target of some such rumors, in no small part because his father, Brett, played there. But that's not a factor, according to the player.
"People try to say that just because my dad went there," he told Inside the Hall of the Butler rumors. "I want to go to IU."
Carlino's decommitment, another hot-button issue among the IU faithful of late, hasn't had any effect on Etherington's status with Indiana either.
"I'm still 100 percent with IU," he said.
Etherington's Hamilton Heights squad finished the season 12-8, a record he admits was below their expectations. Still, the player was able to notch the personal goal of making the junior all-star team, and he said he hopes to use this summer and his senior year to improve his versatility, so that he can "have an impact right away" when he comes to IU next year.
Filed to: Austin Etherington, Cody Zeller, Jeremiah Davis, Matt Carlino