That's A Wrap: TIJAN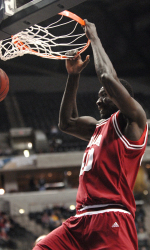 Welcome to "That's A Wrap," our attempt to um, wrap up the 2009-10 season. Sit back. Relax. Grab some popcorn. Get your read on.
Final Stats (22 games): 108 minutes, 8 points, 14 rebounds, 26 fouls, literally thousands of fans' hearts won.
Yes, sadly, it is that time. You might want to hit the DVR and grab a box of tissues, because we here at Inside the Hall are *sniffle* about to say our last goodbyes to Tijan Jobe.
I should probably lead this column off with a link to another piece of mine, written in the yesteryear of my misspent youth. I'm only doing it, really, to make you laugh, and because Jordan Cohen would call me on it if I didn't.
So here it is: "Three reasons I love Tijan Jobe".
Yes, yes, I know. It amazes me too. It really is shocking that there were only three.
In all seriousness, Tijan Jobe, all seven feet of him, will never be remembered for his statistics. But he had his moments. Like the time he waved his arms and nearly took down Lucas Oil Stadium after a nasty block against Gonzaga. Or when he played the top of the 1-3-1 for one play, a strategy that should have been used again but never was.
Yes, Mr. Jobe was a fan favorite — a badge he wore well — and by all accounts, worked as hard as any player who wore the uniform while he was in college.
We usually separate this exercise into a quick season synopsis, and then a bottom line. But with Jobe, it's honestly hard to talk about his season without seeming like we're picking at him. So here's the bottom line:
He was never prolific, and he was never expected to be. Jobe was a placeholder, a scholarship that — while perhaps not as productive as most given out at IU in wins or points or championships — was intended to be filled by someone who would carry himself and represent his program in the best way possible wherever he could. By all accounts, Jobe never disappointed.
The road was not without tragedy, unfortunately. Jobe's mother died in The Gambia, his home, during the season, and he could not go home for her funeral. But ever polite and stoic, Jobe honored his mother at his senior night, an event at which he was without doubt the starring attraction. (Jobe Cuervo)
Through it all, Jobe also earned a college degree, an importance we too often forget in the high-stakes, high-dollar world of college athletics. And while that may seem simplistic, remember this is a young man who just came to America six years ago. Now he's going to matriculate at Indiana University. That should speak for itself.
And maybe, some time next year, when there's a down moment or the game is nearly over and not that close, maybe the fans could start a "Ti-jan Jobe" chant? One more time, for me? OK, for Dollinger, then?
Filed to: Tijan Jobe