Q & A: 2011 Warsaw guard Nic Moore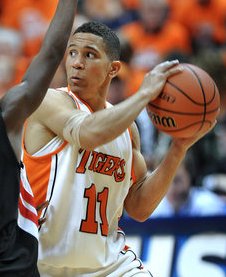 If the state of Indiana didn't know the name Nic Moore prior to this season, they do now. The 5-9, 170-pound guard led Warsaw to a 23-3 record and the 4A state championship game, where the Tigers fell to North Central, 95-74. Moore scored 28 points in that game and will play AAU this spring and summer with Spiece. Inside the Hall caught up with Moore on Monday for a Q & A:
On Warsaw's run to the state championship game and what he took from the season:
"When things got tough, I learned not to get mad and handle myself. It was a great season with me and all of the guys becoming like a family. After we lost the Noblesville game, we realized that rebounding was going to help us win, so that's one thing we worked on in practice. North Central, they're a good team, but it was a fun run."
On the difference in the game against North Central:
"Their depth. They play like 13 guys, so if one of them got tired, someone just as good as them was coming in. So I think that's what kind of hurt us."
On the recruiting interest Indiana has shown:
"They were recruiting me and then everybody was getting ready for the tournament so it was kind of slow with everything. But now, Coach Crean came to our practice at Conseco and he was there at the game, so I think they'll give me a call here later in the week after stuff settles down and talk to me."
On schools that have offered a scholarship and the other schools showing interest:
"The schools that have offered are IPFW, Valparaiso, Evansville, Ohio University and St. Bonaventure. Ball State looks at me, Butler, Purdue, Michigan."
On what the Indiana staff likes about his game and what he needs to work on:
"They like that I play hard and that I'm a leader. They want me to work on getting into the lane and dishing off."
(Photo credit: IndyStar.com)
Some video highlights of Moore from Warsaw's Semistate win over Carroll after the jump.
Filed to: Nic Moore