Observations from the 100th Indiana State Finals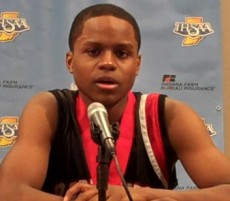 For the first time since the launch of this blog, I made my way to Conseco Fieldhouse for the state finals on Saturday. I did not leave disappointed. My observations from the day begin … now:
+ Faces in the crowd: Tom Crean, accompanied by his son Riley, was in the house for the evening session. Decked out in crimson IU gear, Crean was positioned on the baseline and was easy to spot. Among the other coaches in attendance: Tubby Smith, Bruce Weber, Matt Painter, Roy Williams and Ohio State assistant coach Brandon Miller.
+ Kevin "Yogi" Ferrell, Park Tudor (pictured): This was actually my first time watching Ferrell, a sophomore, and I was particularly interested in getting a good read given the recent scholarship offer by Indiana. Ferrell struggled from the field (7 of 21), but was still the most talented player in the 2A game, which Park Tudor lost to Wheeler 41-38. At 5-10, 160 pounds, size must be taken into consideration when evaluating Ferrell's ceiling, but he did appear capable of playing in the Big Ten. He's more of a scorer than a pure point guard, is stronger than he looks, makes intelligent decisions and has a really nice handle. In other words, I liked him. I'll be interested to get another look at Ferrell this spring and summer when he's not attacked by constant double teams.
+ Cody Zeller, Washington: The 6-9 junior forward continues to improve every time he steps on the court. Gary Wallace had no answer for Zeller on the glass, evidenced by the 26 rebounds he corralled, tying a 3A state finals record. Zeller has excellent hands and if he can continue to get stronger, he'll be a handful on the boards at the next level. Offensively, he didn't shoot particularly well, but was able to get to the foul line all evening. I continue to hear Butler, Indiana and North Carolina as three schools in solid standing with Zeller, but nothing to indicate he's leaning in any particular direction.
+ Branden Dawson, Gary Wallace: I spent the first 5:45 of the opening quarter of the 3A game wondering why, along with Hugh Kellenberger and Lynn Houser of The Herald-Times, Dawson wasn't in the game. Wallace's Renaldo Thomas, by far the most entertaining coach in the press room of the evening, said afterward that he chose to use his star junior as a super sub. Whatever the rationale, once he entered the game, his impact was immediately felt. Dawson didn't shoot particularly well (7 of 24), but showed the explosiveness and instincts that make him a legitimate five-star player. He finished with 22 points, 11 rebounds (six offensive) and carried himself well after a tough loss. Impressive.
+ DeJuan Marrero, Bowman Academy: Marrero, a 6-5, 200 pound forward, is another outstanding prospect from Northwest Indiana. After shooting just 2 of 7 in the first half, the Bowman Academy sophomore came out focused in the second half and was dominant at times. Bowman coach Marvin Rea, who told The Herald-Times that there is definite IU interest in Marrero, said that the first half struggles were likely due to nerves. Marrero shot 6 of 9 in the second half and finished with 17 points, 11 rebounds, six assists, four steals and three blocks. There's no question he's a high-level prospect, but I'd like to see him add a more consistent jump shot.
(I did not, for the record, watch the 4A title game, which North Central won, 95-74, over Warsaw. D'Vauntes Smith-Rivera, a 2012 guard with an Indiana offer, scored 16 points. Warsaw's Nic Moore scored 28 points.)
Filed to: Branden Dawson, Cody Zeller, Dejuan Marrero, Tom Crean, Yogi Ferrell