The latest on Moses Abraham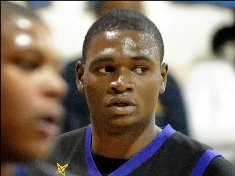 We considered a TMZ-style coverage approach to the Moses Abraham official visit, with live updates from outside the shrubbery of Assembly Hall, Cook Hall, Dunn Meadow and Yogi's.
(Not really, but based on the interest in the Abraham recruitment, it certainly would have boosted page views.)
Here's what we know: Abraham is on day two of his official visit to Bloomington. Joe Boncore, Abraham's guardian, told Evan Daniels of Scout.com that Abraham is down to IU and Georgetown and that a decision could come soon:
"It's definitely down to Georgetown and Indiana. He should be making his mind up when he gets back. Hopefully not the second he gets off the plane, but we do need to get this over with. I think he'll decide this weekend. I know we keep saying that, but we just wanted to give Indiana the chance at least show him the University and stuff like that."
Beyond that, Terry Hutchens of The Indianapolis Star wrote in a blog post this morning that the visit is going well. (Our sources also tell us the visit is going well.)
By all accounts that I have heard, Abraham had a good first day. He spent a lot of time touring the campus, Assembly Hall and the new practice facility. Along with coach Tom Crean, assistant Tim Buckley and Maurice Creek, he walked along the West sideline of Memorial Stadium in the afternoon during Indiana's first Spring Football practice. Later, he had dinner with Crean and in the evening was entertained by Creek and a few other IU basketball players.
So that, for those of you clamoring for an update, is the latest on the Moses Abraham visit. Nothing ground breaking to report, but it sounds like a decision could come soon. But then again, we've heard that before.
Filed to: Moses Abraham