That's A Wrap: Maurice Creek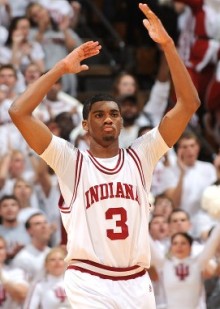 Welcome to "That's A Wrap," our attempt to um, wrap up the 2009-10 season. Sit back. Relax. Grab some popcorn. Get your read on.
Final Stats (12 games): 16.4 ppg, 3.8 rpg, 1.8 apg, 1.4 spg, 53% FG, 76% FT, 18 TO's.
To sum up how well Maurice Creek started his freshman season, let's take a trip back to December 12, 2009. On that Saturday, No. 4 Kentucky came to Assembly Hall. And while the Wildcats won comfortably, Creek made quite the impression on John Calipari.
"How about this Creek kid?" Calipari exclaimed. "We've played a lot of good teams, and he's as good as any player we've played."
On that day, Creek scored 31 points. He showed off his ability to knock down shots from the perimeter (5 of 8 on 3-pointers) and got into the lane and earned points from the line (8 of 8 on free throws). And even after that brilliant performance, Creek talked more about the team's performance than personal accolades.
"We battled hard, we gave a good effort," Creek said. "We've just got a lot of things to work on as a group."
Through 11 games, the 6-5 freshman from Oxon Hill (MD) who committed to IU before ever seeing the campus, was emerging as a silent leader of sorts. While many expected Jeremiah Rivers to take the reigns, Creek's immediate success and competitiveness demanded the respect of his teammates.
And then, on December 28 against Bryant, this happened.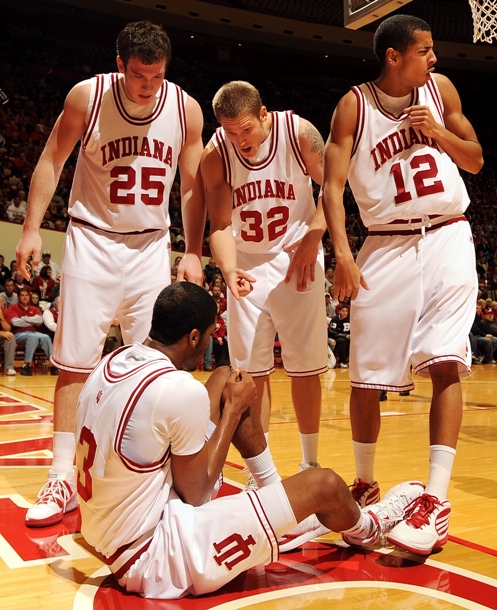 A freakish knee injury in the final tune-up before the Big Ten season. The Hoosiers, already without Matt Roth, were now without Creek for the remainder of the season. (Props to Chris Howell of The Herald-Times for this brilliant photo.)
"He is a very, very special young man," Tom Crean said. "It's gut-wrenching in so many fronts when you see a young man like that go down, who works as hard as he does."
Sans Creek, Indiana finished the season 4-15. Without him, the Hoosiers struggled to find a playmaker capable of consistently getting into the lane or knocking down outside shots.
"Every time I watch the team play it hurts even more, because I can't help these guys," Creek said prior to IU's meeting with Northwestern in the Big Ten Tournament. "But you can help them in different ways and that's what I've been able to do."
The Bottom Line: While it's difficult to quantify the impact of a healthy Creek to Indiana's record for the 19 games he missed, his health is of the utmost performance to the program moving forward. We've heard no firm timetable on his return to basketball activities, but he told reporters a few weeks ago that he expects to resume running in June or July. Assuming he's able to return at 100 percent (or close to it) next season, he's an instant candidate for All-Big Ten-type accolades.
Filed to: Maurice Creek