Checking in on (possible) future friends, (definite) future enemies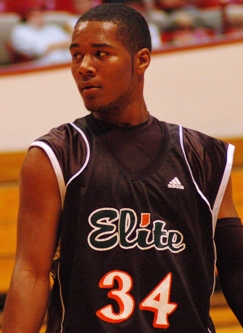 So after sleeping until noon — I was quite tired — in my bid to recover from my New Orleans shenanigans this week, I realized that a) there were two semi-state games at Southport and b) thanks to the convenient location of my weekend stay in Indianapolis, I was less than a half hour away.
Pile into the girlfriend's car, I did, (mine's dead. again.) and trekked over to Southport, arriving just in time for the center-court party following Washington's 56-37 win over Danville, with Cody Zeller towering over everybody. (Zeller, by the way, finished with 14 points and 12 rebounds.)
Bunkering down next to Dustin Dopirak from The Herald-Times, I got the chance to take in Purdue signee Terone Johnson and Indiana target D'Vauntes Smith-Rivera as North Central took on Bloomington South killers Jeffersonville.
First, about the game: It was a good one. North Central sped things up early, finishing the first quarter on pace for 100 points. But fouls, and the subsequent 12-5 disparity in made free throws in the first half, let Jeff hang around, though two Johnson 3-pointers right at the half's end pushed North Central's lead back up to eight.
The gap stayed fairly consistent through the second half. Jeff would make runs, pushing the lead down to maybe three or four, but North Central would find ways to respond every time, whether through turnovers or offensive rebounds or, simply, feeding their talent.
Johnson had a game-high 13 first-half points, triggering a decision from the Red Devils to switch to a box-and-one defense on the future Boilermaker. Which brings us to Smith-Rivera.
Shooting just 0-of-3 from behind the arc and 2-of-5 overall, the sophomore finished the opening sixteen minutes with five points, four rebounds and five assists. But the switch opened things up for Smith-Rivera, who spent a lot of time in the lane offensively, given that neither the Panthers nor the Red Devils had size above 6-foot-4.
With Johnson pulling his man to one side of the floor offensively, Smith-Rivera had a big second half — and a Michael Oher-sized fourth quarter (I saw "The Blind Side" tonight) — at times beating Jeffersonville by himself. Twenty points in the half and 16 in the fourth quarter made the talented sophomore the game's leading scorer by the final buzzer. 13 of those fourth-quarter points came during a crucial stretch right after Jeff had cut the lead down to three at 60-57. Over North Central's next 11 shot-producing possessions, Smith-Rivera hit five field goals, most coming in the lane, and made 3-of-4 free throws, eventually pushing his team's lead back to eight. The Panthers would eventually win, 82-77.
It was hard to get a real read on Smith-Rivera, as I said, because he was playing out of position. Most of his shots that weren't layups weren't from more than maybe 10-12 feet. He showed some savvy on defense, and the five assists came on nice ball movement. He also said after the game that he felt like his rhythm was off at the beginning — sitting in the middle of that zone — and he never took another 3-point shot after those three misses.
Defensively, he was also a down-low player against the zone, but he did look active. I guess what I'm trying to say is, Smith-Rivera will likely be easier to judge as a college prospect, at least at the high school level, after Johnson leaves and North Central becomes more his team.
Still, kid looked good, seemed willing to be a teammate, not just an individual, and was basically the reason North Central held off a couple of furious Jeffersonville rallies in the final quarter. His game clearly stepped up in the fourth quarter, and his play loosened things up in the lane for the Panthers.
Also, sorry, but Terone Johnson is pretty good. Just sayin'.
Elsewhere around the state
Class 3A at Lafayette Jeff: Branden Dawson, the 6-6 do-it-all forward who many feel is a Purdue lean, scored 24 points and had 11 rebounds to lead Gary Wallace past Ft. Wayne Elmhurst 57-47. The win was the 10th straight for the Hornets, setting up a battle with Zeller and Washington for the state title next Saturday. Hugh Kellenberger of The Herald-Times reported that Illinois coach Bruce Weber was in attendance.
Class 2A at Seymour: Kevin "Yogi" Ferrell, who was recently offered a scholarship by Indiana, scored 24 points to lead Park Tudor past Forest Park 47-45 in four overtimes. The Panthers, who were once 4-8, will face 26-1 Wheeler at 12:45 pm on Saturday.
Class A at Huntington North: DeJuan Marrero picked up a technical foul, but scored 12 points and had 10 rebounds to lead Bowman Academy past Monroe Central 89-79. The Eagles will face Barr-Reeve for the state title at 10:30 am on Saturday.
Filed to: Cody Zeller, D'Vauntes Smith-Rivera, Terone Johnson, Yogi Ferrell