Wait, they really have a 4:16 a.m., too?
Update (7:45 p.m. by Alex Bozich) — According to our friend John Decker over at Hoosier Nation, a decision will not come today from Moses Abraham. "Probably not today," Abraham told Decker of a timetable for a decision. "It might be this week, or I might wait until next week. I'm not sure."
—
Update (3:00 p.m. by Alex Bozich) — The new "target time" for a decision for Abraham is 7 p.m. this evening, according to Dustin Dopirak of The Herald-Times. At this point, I have no idea what to make of this whole situation, so I'll just sit back and let Moses work his magic.
—
Update (10:27 a.m. by Zachary Osterman) — Just a little bit of extra news on the Abraham front. According to a source familiar with the whole situation, the reason Abraham has yet to decide is because IU is making a strong late pitch. The source would not elaborate on with whom exactly Abraham has been in contact, though it was reported yesterday that Tom Crean would be in the Washington, D.C., area.
Whomever he might be talking to is selling Indiana hard enough to make Abraham push back his decision and give them extended consideration. Keep in mind that the contact period for the spring recruiting window begins tomorrow, so if Abraham extends this decision to at least that point, then Indiana is allowed in-person contact with him, as opposed to just phone calls.
—
Update (8:43 a.m. by Alex Bozich) — Moses Abraham did not choose a school last night, says Dustin Dopirak of The Herald-Times. According to Dustin's source, which is likely the same one we've been using, "Indiana is doing a great job" in the recruitment of Abraham. The source adds that Abraham will speak to Tom Crean again this morning, but that a timetable for a decision is "up to Moses."
—
It is 4:16 a.m., and I have finally arrived home in Goshen.
I am tired. Very tired. Incredibly tired. Hands-shaking, world-spinning, can't-spell-words-anymore tired. I am not sure how I made it home from my drive, except to say that listening to Outkast, Tom Waits, The Band, Alan Jackson, Bruce Springsteen, Ludacris, Fleet Foxes, Arcade Fire, the Boomtown Rats and a whole host of other good tunes probably kept me going.
That and the UFO that chased me for several miles. No seriously, right outside Rochester. It was terrifying.
I stopped for recaffeination and leg-stretchery in Logansport and Argos. I downed a large cup of coffee and two bottles of Vault. (Which, by the way, is actually just Surge, renamed. And I loved Surge. It was great.)
I had some scintillating political and philosophical discussion with my traveling companion. It was the potted daisy pictured below: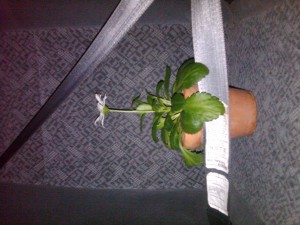 It's a gift from my mother to my girlfriend. Do not fear, daisy lovers, I did not make it ride sideways. The picture is just tilted 90 degrees.
As you can see, I had quite an eventful ride home. I did not, however, touch base with the Moses Abraham camp, despite calls and texts and voicemails left. I was not the only one to try either. As best I can tell, the H-T and Peegs also came up short, although the IDS did have an update literally several hours ago saying Abraham might not make his decision until tomorrow. (During awake-people time tomorrow, not this time tomorrow.) I am now guessing that is what will occur.
In truth, it's easy to understand why Abraham is taking his time — you'll recall he's already pushed this decision back once. I know his adviser, Joe Boncore, has spoken in the past about Abraham's positive impression of IU's rebuilding effort, and his desire to visit Bloomington if possible.
The Hoosiers are one of just two schools he is considering, a source told Inside the Hall yesterday, so he might want an extra day or two to keep sorting things out. These really are important decisions — ones that will impact the rest of a young person's life — and so it is perfectly understandable that this one is not being rushed.
That said, I am finally checking out. We will, of course, try to follow up on this when it's regular morning instead of really, really ridiculously early morning, and keep you updated as much as we can.
I myself must go regenerate for my trip to New Orleans to cover Notre Dame in the NCAA tournament, (I wish you could come too, Chronic) a trip which I will likely be making by car. So I need sleep. Badly.
Until tomorrow/whenever I wake up, friends.
Filed to: Moses Abraham, potted daisy