New basketball practice facility named Cook Hall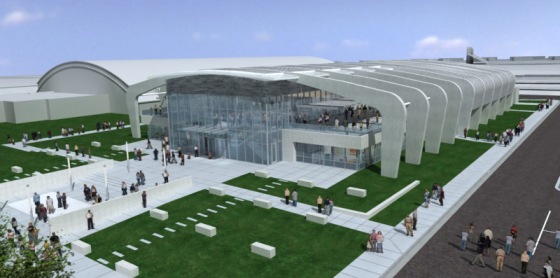 Here's the lengthy press release, which just popped into our inbox:
BLOOMINGTON, Ind.- Indiana University President Michael McRobbie and Vice President and Director of Intercollegiate Athletics Fred Glass today announced the single largest gift in the history of the department of athletics.  The Cook Group has made a $15 million gift to the For the Glory of Old IU capital campaign, which will be most immediately utilized to support and enhance the new basketball development center for the benefit of the men and women basketball program student athletes.  In recognition of this historic gift, Indiana University will permanently name the new basketball development center "Cook Hall".  That naming was approved by the Indiana University Board of Trustees at its Friday meeting in Kokomo.

The Cook gift to IU Athletics is only part of the support that the Cooks have provided to IU through the years.  The family and the company have given generously to academic areas of the University including the School of Music, the School of Medicine, School of Education, and Wells Scholars Program and have endowed several academic chairs.  It is noteworthy that even this gift to Athletics will primarily support a facility dedicated to the instruction and preparation of men and women student athletes.
Cook Hall, physically connected to Assembly Hall, will be the headquarters for the men's and women's basketball programs, providing them with a state-of-the-art venue in which to practice, train and condition. The 67,000-square-foot, multilevel facility features mirror image practice courts, locker rooms, coaches' offices, meeting rooms for each program as well as "Legacy Court" which will feature a prideful display of the rich tradition of men's and women's basketball at Indiana University.  The Cook gift, among other things, will help make Legacy Court the premier venue of its kind in the country.

"This extremely generous gift from Bill and Gayle Cook will leverage many benefits for our athletic programs and for the entire Bloomington community," said IU President Michael A. McRobbie. "Their tremendous support will help ensure that we continue to build upon our proud and longstanding traditions of academic and athletic excellence. All of us at Indiana University are grateful for the Cooks' steadfast dedication to the university and community."

Cook Group is a privately held company founded and based in Bloomington, Indiana.  Its Cook Medical affiliate pioneered many of the medical devices now commonly used to perform minimally invasive medical procedures throughout the body and is among the world's best-known and most respected names in medical devices and supplies. The company was founded in 1963 in a spare bedroom in Bill and Gayle Cook's apartment in Bloomington where they produced interventional medical products such as wire guides, needles, and catheters.  It was the first company in the world to develop and manufacture coronary artery stents.  Today, the company integrates medical devices, drugs and biologics to enhance patient safety and improve clinical outcomes and has facilities throughout the United States, Denmark, Ireland and Australia.  Cook Group's philosophy of giving back to the communities that support it, has also led to much of this growth, as Cook reinvests in the communities where its business are located.

"When Gayle and I first came to Bloomington, it was a sleepy, pretty place with a magnificent university", recalled Bill Cook.  "Our dream was born in this community.  When the time came to move from Chicago, I asked Gayle if she would like to relocate and it took 2-seconds to say yes.  Our lives were cast with this small city and large university.  We have never looked back.  Being a part of this new athletic complex started when we donated the lighting for Memorial Stadium, an elevator for the soccer stadium, and athletic scholarships.  But twenty-five years ago, we noticed a need that had to be met and that was to have facilities for women who wanted to participate in athletics.  Gayle had always wanted to be a runner."

"We thank Phyllis McCullough, IU Varsity Club member and retired President of Cook Incorporated and the Varsity Club, who asked if we would make a donation to help support women's athletics and we agreed.  It took many years later for that request to be realized and today women will benefit from the hard work of so many who raised funds for their benefit.  Our thanks also go out to Fred Glass, Steve Ferguson, and Dr. Larry Rink who helped make this project a reality."

"It is highly appropriate that this gift makes possible a state of the art building where men and women student athletes will be instructed and otherwise prepare to compete and where tradition will be celebrated given the Cooks' commitment to women's athletics, education, and excellence," observed Glass. "The short-term and long-term impact of this amazing gift will be dramatic.  It has immediately enabled us to make additional investments in Cook Hall so that it will be the finest of its kind in the nation, providing a tremendous boost to our men's and women's basketball programs.  Going forward, the gift will further enable our men and women student-athletes to prepare and compete in first class facilities."

"Beyond the critical resources it provides, this gift is symbolic beyond measure," said national campaign co-chair Larry Rink. "The Cook Group is a respected industry leader known for integrity, success and commitment to excellence.  Indiana Basketball strives to embody these qualities that Cook has long valued and represented. It is no surprise then that Cook Group has been a longtime supporter of Indiana University basketball."

The Cook Group will complete its gift through annual $1 million payments over 15 years and made its first $1 million payment on January 25th of this year.  To honor the Cook Group and its employees who made this gift possible, a permanent plaque will be placed in Cook Hall recognizing each and every one of the thousands of people who comprise their loyal workforce.

Indiana women's basketball head coach Felisha Legette-Jack is excited about what this gift will do for her program. "We are truly honored and humbled by the donation of the Cook family. This amazing family realizes how important state of the art facilities are to our student-athletes.  With their generosity, we are going to continue to grow our women's basketball program into one of the very best in the nation. My staff and I want to thank the Cook family from the bottom of our hearts," expressed Indiana head women's basketball coach Felisha Legette-Jack.

Indiana men's head basketball coach Tom Crean also expressed his gratitude for the generous Cook gift.  "The Cook family is one of a kind in what they have done for this state, this community, this university and what they plan to do to help our basketball program and athletic department to take steps forward, which will allow us to do great things," Indiana head men's basketball coach Tom Crean said.  "It's an honor to have the Cook name behind what has meant so much for so long to people of the past, people of the present and what it is going to mean for people of the future.  It will be great to go into a complex that is full of class, integrity, professionalism, and innovation, much like Mr. Cook has run his business."
Filed to: Cook Hall