Meet Florida Air Academy's Will Yeguete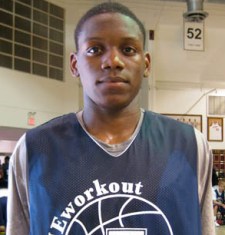 Well, actually, we're still trying to get ourselves acquainted with the 6-7, 210-pound power forward from the Florida Air Academy. I assigned Zach the task of trying to get in touch with Yeguete's coach, Aubin Goporo. (Well, not really, I just asked him to do it and he happily obliged.) However, those attempts have been unsuccessful.
So what have we learned about Yeguete? Not nearly enough, but here's what we do know: He's 18 and is in his second season at the Florida Air Academy after arriving from France. According to this story, penned last month by Mike Cherry of Florida Today, Yeguete spent several years living on the Ivory Coast.
Yeguete does have a scholarship offer from Indiana, but it's unclear as to what other schools have offered. The story we referenced earlier by Cherry mentioned the following schools: Sam Houston State, St. John's, Oklahoma, Marquette, Drake, Nevada, Purdue, Rhode Island and George Washington. (Rivals claims IU, Sam Houston State, Southern Illinois and St. John's have offered while Scout claims Drake, Southern Illinois, St. John's and Rhode Island have offered.)
Here are a few stat lines from recent games for Yeguete, who is unranked by Rivals.com and a three-star prospect on Scout.com:
+ Nine points in a 65-29 win over Satellite on February 6.
+ 21 points in a 63-62 win over Pine Crest (No. 1 Rivals.com player Brandon Knight's team) on February 2.
+ 20 points in a 60-53 loss to the Rock School on January 29.
But beyond the points, Yeguete is best known for his rebounding prowess. As of mid-January, he was reportedly averaging upwards of 15 rebounds per game. Dave Telep, the national director of recruiting for Scout.com, had Yeguete with 50 rebounds in three games in last September's Nike Team Florida Fall Workout.
That, my friends, is what we know about Will Yeguete. We will continue to attempt to make contact with his coach and get more information, but since he's looking like a potential addition to the 2010 class, this update, albeit brief, felt warranted. Happy Friday.
Filed to: Will Yeguete