Pomeroy Preview: Indiana at Wisconsin
Ladies and gentlemen, reasons for optimism on Saturday are not plentiful after a quick glance at the chart below: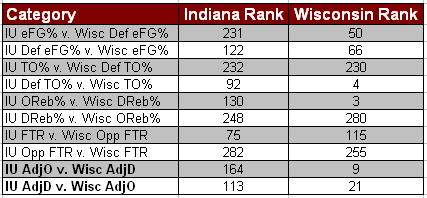 Of course, these numbers are not the only determining factors once the ball is tossed up, but they certainly point to Wisconsin being heavily favored.
A couple of things really stand out for the Badgers: First, their turnover percentage is a ridiculous 15.5 percent, good for fourth in the country. The Hoosiers, by comparison, turn it over at a clip of 21.7 percent.
Second, Wisconsin's defensive rebounding percentage is third nationally. Translation: Good luck getting to the offensive glass. Indiana is doing a respectable job on the offensive boards, but they're going to need an extraordinary effort in that category to keep this competitive. That means Jeremiah Rivers and Verdell Jones really need to crash the boards.
Pomeroy is calling this a 71-53 win for Wisconsin and puts the chances of an IU win at three percent. Given Bo Ryan's success at the Kohl Center and the fact that Wisconsin is coming off its first home loss of the season to Illinois, this prediction does not seem far fetched.
Filed to: Wisconsin Badgers