High-flying Oladipo will play in Derby Festival Classic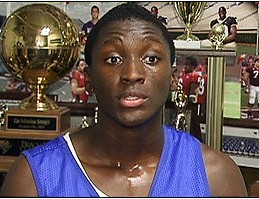 Last season's Kentucky Derby Festival Classic at Freedom Hall gave Indiana fans a glimpse of things to come with a trio of incoming freshmen.
There was Jordan Hulls connecting with Christian Watford, the Gold Team MVP, for a fastbreak alley oop. And there was Maurice Creek carrying an Indiana flag above his head during the pregame warmups.
This year's game, which will be played on April 10, will include high-flying DeMatha wing and IU signee, Victor Oladipo. (Game information available here.)
"Yeah, I'm going to play in that one," Oladipo told Inside the Hall via telephone on Monday evening.
Oladipo has emerged as a senior leader for the Stags, who are 20-3 and No. 20 in the latest USA Today Super 25.
"We've had our share of ups and downs," Oladipo said. "But I'm glad that we're coming together and I feel like we're going to have a good stretch of basketball coming up soon and I'm looking forward to it."
Known primarily for his ability to finish at the basket and defend, Oladipo has put in a great deal of work this season improving his outside shot. He says improving that part of his game is just as much mental as it is mechanical.
"Through working at it, it's a little bit of both. I think most of my problem is that it's a mental thing. I just got to realize to shoot it with confidence and be confident in myself and my jump shot and just know that it's going in every time. If I miss two or three in a row, I just got to realize that the next one I'm shooting is going in."
Besides the confidence he's building in his jump shot, the DeMatha wing is also encouraged with the strides he's seeing from the team he'll join next season in Bloomington.
"They're a young team," Oladipo said. "They give everybody a run for their money. They're improving every game."
Filed to: Victor Oladipo