Pomeroy Preview: Minnesota at Indiana
Meet the 2009-2010 Minnesota Golden Gophers. 3-2 in the Big Ten. 12-5 overall. And really, really solid on defense. But that's what we've come to expect from Tubby Smith coached teams: A rugged style of play that's not particularly fun to watch, but produces wins. Winning, for those of you scoring at home, is normally the preferred outcome in athletic competition.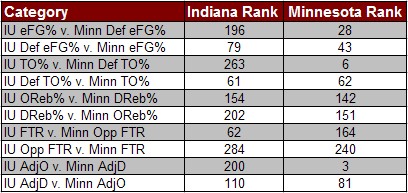 As you can see by glancing at Pomeroy's numbers, there are few areas in which the Hoosiers compare favorably to Minnesota. The Golden Gophers are defending exceptionally well — they're third nationally in adjusted defensive efficiency, sixth in defensive turnover percentage and 28th in defensive effective field goal percentage.
The turnover percentage, in particular, should be of concern. While the Hoosiers do excel at forcing turnovers — 66th nationally in defensive turnover percentage — they're giving quite of few possessions back with their 22.6 percent turnover percentage — 263rd nationally. Minnesota, on the other hand, does a solid job taking care of the ball — 62nd nationally in turnover percentage.
The team that effectively controls tempo will likely win this game. Indiana will look to score in transition and attempt to take better care of the ball. And Minnesota will look to continue carrying out its winning formula: slow it down, take care of the ball and take high percentage looks.
Pomeroy has it going down like this: Minnesota 77, Indiana 65. What say you?
Filed to: Minnesota Golden Gophers