More transfer talk: Gregory Echenique considering Indiana, four others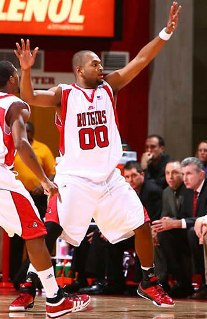 For those wishing Indiana possessed a few more viable options on its front line, this could potentially cheer you up.
Gregory Echenique, a 6-foot-9, 270-pound big man from Venezuela via St. Benedict's Prep in Newark, N.J., has Indiana on a shortlist of possible destinations after Rutgers announced last Friday via release that Echenique would be departing the program. Adam Zagoria has the list, which also includes Miami, Georgia Tech, Maryland and Creighton.
Once considered half of the one-two punch that was going to get Rutgers back to the NCAA Tournament, (McDonald's All-American guard and scoring machine Mike Rosario being the other half) Echenique was slated to sit out the rest of this season after an accidental in-practice eye-poke led to a detached retina. The big man was averaging 12.6 points and 7.7 rebounds before the injury.
It's unclear at present exactly what Echenique's eligibility status would be wherever he transfers, as he was reportedly seeking a medical redshirt — as opposed to the regular kind — for this season. He still technically has his regular redshirt to burn as well, but, since medical redshirts cannot be applied for until the spring, it's really anyone's guess as to whether that would be granted, how it might be affected by a potential transfer, etc.
What's equally unclear is how Echenique, who appears at first blush to be more of a back-to-the-basket kind of player, would fit in Tom Crean's up-tempo system or how interested Indiana would be in adding him to the program. Still, Echenique was a four-star forward in the 2008 class who had offers from Duke, Maryland, Pitt and Memphis, among others, so he's certainly no slouch.
We'll muddy the waters further by pointing out that the spring semester has started at IU, but not at Rutgers, so even if this gentleman would like to be eligible by second semester 2011, it's going to take some midnight oil to figure out if he can be.
As you can see, this situation lacks much clarity at this point, not an uncommon problem right after a kid decides to transfer. Either way, we'll try to get something more concrete for you on this if it moves forward.
Filed to: Gregory Echenique