Sheehey scores 27 in MLK Classic win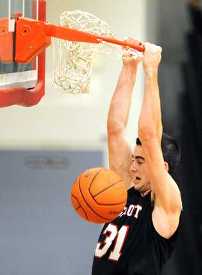 Throughout the season, Inside the Hall will keep you posted on how 2010 signees Victor Oladipo and Will Sheehey and 2011 commitments Austin Etherington and Matt Carlino, as well as other notable prospects being recruited by Indiana, are performing at their respective schools.
You can send us stats or results for this report at [email protected]. Here's our latest update:
+ Victor Oladipo – DeMatha (MD): The 6-3 Oladipo scored 17 points in a 54-52 DeMatha win over Good Counsel on January 5. (Video clips from that game are available here.) Oladipo had 10 points in a 63-61 DeMatha win against McNamara on January 8.
+ Will Sheehey – Sagemont (FL): Sheehey posted 27 points in a 58-31 Sagemont win over Boyd Anderson on January 9 in the Dr. Martin Luther King Jr. Basketball Classic. Sheehey was named MVP of the game against Boyd Anderson. On January 5, Sheehey scored 15 in win over Westminster and on January 7, he had 31 points in a 81-50 win over Parkway. (Photo courtesy of MiamiHerald.com.)
+ Austin Etherington – Hamilton Heights (IN): Etherington scored 12 fourth quarter points and finished with 23 in a 51-46 Hamilton Heights win over Taylor on January 8.
+ Matt Carlino – Bloomington South (IN): The left-handed guard scored a team-high 18 points as Bloomington South beat Bloomington North 66-51 on January 9. South is now 10-0.
Other notables:
+ A.J. Hammons – Carmel (IN): The 7-0 Hammons, who picked up a scholarship offer from Indiana over the weekend according to Evan Daniels of Scout.com, scored six points in a 60-40 Carmel loss at Center Grove on January 8. Hammons attended the Indiana-Illinois game on Saturday.
+ Cody Zeller – Washington (IN): The 6-9 Zeller helped Washington improve to 10-0 with 15 points in a 70-56 win at Evansville Mater Dei on January 8. Zeller also attended the Indiana-Illinois game.
+ D'Vauntes Smith-Rivera – North Central (IN): North Central improved to 7-2 with a 84-54 blowout of Ben Davis on January 8. Smith-Rivera had 23 points.
+ Jeremiah Davis – Muncie Central (IN): Muncie Central fell to 4-5 with a 49-47 loss at Hamilton Southeastern on January 9. Davis scored 10 points.
+ Jeremy Hollowell – Lawrence Central (IN): The 6-8 Hollowell had 13 points as Lawrence Central lost, 81-68, at home to Columbus North on January 8.
+ Marquis Teague – Pike (IN): The Pike point guard had 16 points as the Red Devils won 71-66 over Perry Meridian on January 8. Teague's father, Shawn, was in attendance for Saturday's Indiana-Illinois game.
+ Ron Patterson – Broad Ripple (IN): Patterson had 11 points in a 65-63 Broad Ripple loss to Howe on January 8 and nine points in a 52-45 overtime loss at Westfield on January 9.
+ Kevin "Yogi" Ferrell – Park Tudor (IN): Ferrell, a 5-10 point guard, had 32 points in a 67-61 loss at Heritage Christian on January 8. Ferrell attended the Indiana-Illinois game.
Filed to: Austin Etherington, Matt Carlino, Victor Oladipo, Will Sheehey