Pomeroy Preview: Indiana and Bryant
Before diving into this grossly one-sided visual I've produced, here are a few things you should know about the Bryant Bulldogs: They're 0-12. They've played three games against Big East opponents and have lost by a combined 95 points. They're IU's only opponent this season from Rhode Island. (Who knew?) Their transition to Division I athletics began in 2007. And finally, they're not good at basketball.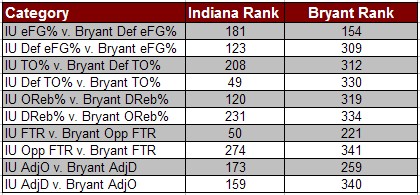 If you put any stock into the Pomeroy ratings, and we do around these parts, only 12 teams in the country are worse than Bryant. Beyond that, Pomeroy has the percentages of Indiana winning this game at 98 percent. Given that this is the last sure thing on the schedule in terms of a win, the Hoosiers would be best served not looking ahead to the start of the Big Ten on Thursday, avoiding a Loyola-like start and crushing Bryant.
Filed to: Bryant Bulldogs