Pomeroy preview: Indiana and Loyola
Of the three opponents on the schedule between the Kentucky game and the start of the Big Ten slate on New Year's Eve, the Pomeroy rankings suggest that Tuesday's opponent, Loyola (MD), presents the biggest challenge. Let's take a glance at the numbers (updated through Sunday's games):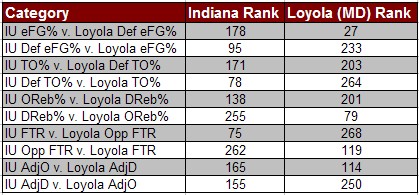 A couple of things stand out here: Loyola seems to be a respectable defensive team. They're limiting opponents to a 42.9 effective field goal percentage, good for 27th best in the country. (Keep in mind that this number might be a bit deceiving due to a weak schedule. In their two games against top 100 Pomeroy opponents, Loyola was beaten 83-60 at West Virginia and 77-57 at Niagara.)
They're also doing a decent job getting to the offensive glass. Their 35.9 offensive rebounding percentage is 79th in the country. Since defensive rebounding percentage has been a bit of an Achilles heel to this point for IU, this is definitely something to keep an eye on. (Tom Crean addressed the possibility of going to a bigger lineup as a solution for this problem on his radio show on Monday night.)
The good news for IU? Loyola turns it over at a high rate (23.1 percent), opponents are getting to the line at a good clip (44.2 percent opponent free throw rate) and their 46.5 percent effective field goal percentage is poor. Overall, Indiana holds an advantage in six of the ten categories referenced here and Pomeroy predicts a 72-66 win for the Hoosiers.
Filed to: Loyola Greyhounds