Good, Bad and Ugly: Loyola (Md.)
THE GOOD: THE COMEBACK, TOM PRITCHARD.

I started this game a bit late, so I had to play catchup on DVR. Because I always need to have my laptop open — always, always — I caught one of Alex's Twitter updates that said IU had cut the lead to 11 with just under 12 minutes to go. At the time, I had just started the second half, and as the half wore on I became increasingly shocked by this fact: after all, IU showed no signs of really putting a dent into Loyola's lead. They still trailed by 20 with 14:10 to go, and though they were taking care of the ball better — there was only one turnover in the first seven minutes of the second half — Loyola was hitting their shots, and IU wasn't able to inch any closer.
But then the barrage hit. Maurice Creek knocked down two threes, Verdell Jones hit another, Creek hit a layup, got fouled and hit the free throw, Jones hit two free throws off a Creek steal, and suddenly the Hoosiers were only down six with 10:18 to go.
Another big part of IU's comeback? Tom Pritchard. In the second half, he really reminded me of the Pritch of old: he was gobbling up rebounds, had a real knack for the ball and was a productive scorer. He had six offensive boards and eight total, and chipped in seven points. It wasn't an amazing effort by any stretch, but he kept a lot of plays alive during the Hoosiers' comeback run, and it was an integral part of why they were able to make this a game.  IU, with their thin frontline, could use this kind of effort out of Pritch every night.
Yes, of course, there was plenty to gripe about in this game. (Just what until you get to The Bad.) But IU could have laid down and died in this one. Instead, they turned up the defensive pressure in both the full and half court, were aggressive and got to the line, and hit some big shots to bring them right back into this game.
This is what good teams do when they find themselves at a crossroads: They will themselves back into the game with good play on both sides of the ball. But good teams also find a way to win these games against an inferior opponent at home. And well, we all know that didn't happen tonight.
THE BAD: OH, THERE WAS PLENTY.
I've seen some bad basketball in my day. I've played some bad basketball in my day. I know last year's team turned the ball over at a freakishly high rate. But man, this has to rank up there as some of the most terrible basketball I've seen in recent history. It was a like a middle school game between two unskilled, uncoordinated teams. The game was basically a reversed course. Where Loyola feasted off IU's turnovers for 20 points thanks to its full-court press in the first half,  IU got back into this game on the strength of its three-quarters court trap in the second half. Both teams finished the night with 23 turnovers. Early in the first half, when IU actually was able to break the press (which was rare), every possession just seemed to be guys trying to drive — be it Maurice Creek, Christian Watford, Devan Dumes — and falling over themselves.
There was also a ridiculous 58 free throws shot in this game — 32 for IU; 26 for Loyola — which seemed to be to IU's advantage. They hit a nice 10-of-12 in the first half, and were hitting early in the second.
But it killed them down the stretch:  Jones missed two with 8:21 to go, Jeremiah Rivers missed four straight in the last 2:03, none more important than the two he missed with IU down 69-67 with 37 seconds to play, which essentially sealed the game for Loyola. In the second half, IU only shot 12-of-20 from the line, good for 60 percent. In a game that's so close, one that you were once down 24 in, you have to do better than that.
And if you're wondering why, when the shot clock and game clock were nearly identical after those last two missed free throws, the Hoosiers waited 20 seconds to foul, it's because Brett Harvey happens to be the best returning free-throw shooter in the country from last season. When he didn't give up the ball, IU had to eventually foul. And all it did was give them less time to mount a comeback. Down four with 17 seconds to go is a lot harder than down four with 35-36 seconds to go.
And ugh, the four-point play with just under two minutes to go in which Rivers fouled Harvey on a 3-point attempt that he made? A four-point lead with just under two minutes to go quickly became a two-point deficit. In a game like this, you can't let that happen. You just can't. And it was the second time it happened; the first play of the second half was a four-point play from Harvey, in which Rivers fouled him on a 3-pointer.
The worst play of the night? With 11 minutes to go in the first half, Watford looked to inbound the ball under Loyola's basket. Hulls and Rivers were covered in the backcourt very near to him on the baseline. Dumes, the next closest Hoosier, was near the 3-point line down on IU's side of the court. So what does Watford do? He throws it right to — literally it hit him chest high — Robert Olsen of Loyola, a guy that was standing pretty much at center court.
That play pretty much epitomizes how this game went.
THE UGLY: WHEN THE TIE COMES OFF, YOU KNOW TOM CREAN IS ANGRY.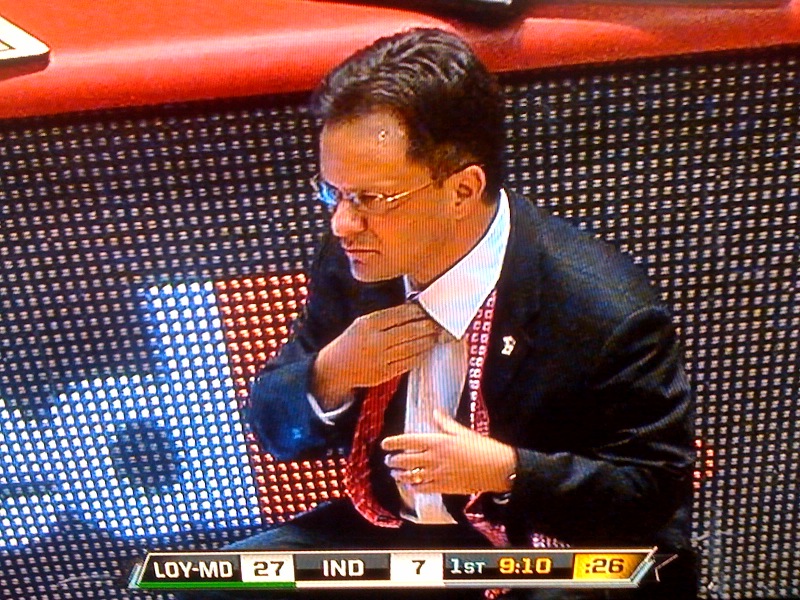 Filed to: Jeremiah Rivers, Loyola Greyhounds, Maurice Creek, Tom Crean, Tom Pritchard