Don't call it a comeback: Hoosiers fall to Loyola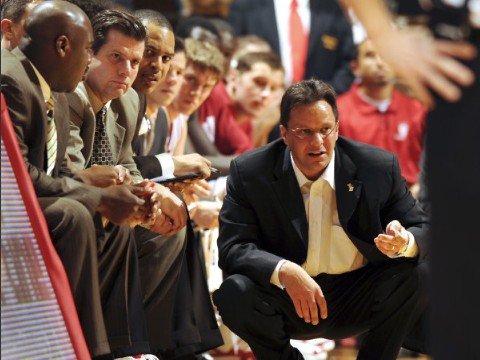 The road back from a 24-point deficit is a long one.
But after a three-point play by Jeremiah Rivers with 3:48 remaining, the Indiana Hoosiers had their first lead, and for a few short moments, momentum, Tuesday night in Assembly Hall.
That lead, however, would be short lived.
The Hoosiers (5-6) missed four free throws and failed to score in the final 2:55 in a head scratching 72-67 loss to Loyola (MD).
The opening half of basketball was easily Indiana's worst of the season. The Hoosiers failed to score in the first 6:17. They committed 14 turnovers, which lead to 20 Loyola points. And with 1:38 left, Indiana trailed at home by 24 to a program that had never beaten a Big Ten opponent.
"They were taking balls from us. We did not come out aggressive enough," Indiana coach Tom Crean said. "They put us back on our heels in a big way."
But for as poorly as Indiana played the first twenty minutes, Loyola matched their level of ineptitude in the second half.
The Greyhounds (6-5) committed 15 second half turnovers. They missed seven free throws. And after leading 58-38, they allowed Indiana to reel off a 27-4 run for a 65-62 IU lead.
Maurice Creek, who failed to score in the first half, scored all nine of his points during this stretch. And for a few moments, it looked as if the first half performance would be quickly forgotten.
"Especially 24 hours removed from the Sacramento Kings coming back from 35 against the Bulls, you're not looking at it like, wow, we can't come back," Crean said. "Our halftime was all about how we were going to come back and win this game."
But alas, it was not meant to be. At least not on this night.
After a layup by Verdell Jones that gave Indiana a 67-65 lead with 2:55 remaining, the Hoosiers were finished scoring for the night. Jeremiah Rivers missed four free throws. Rivers, Christian Watford and Jordan Hulls each committed a turnover. And for the second time in the game, Indiana surrendered a four-point play to Brett Harvey, who finished with a game-high 25 points.
The crowd of 11,321, which helped Indiana fight back from what seemed to be an insurmountable lead, headed for the exits.
Rivers finished with a season-high 15 points, but missed six of nine free throws. Despite his struggles from the foul line, Crean was still encouraged by the play of his junior point guard.
"We don't make the comeback without him," Crean said. "That kid's attitude with the way he attacks, when he's in a full mode attack, he's pretty hard to stop."
Verdell Jones (14) and Watford (10) were the only other Hoosiers in double figures.
Player postgame interviews, courtesy of the IU Athletics channel on YouTube:
(Photo credit: Chris Howell, The Herald-Times)
Filed to: Loyola Greyhounds