Austin Etherington erupts for 35 in Saturday win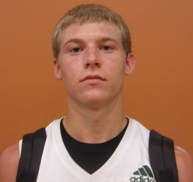 Throughout the season, Inside the Hall will keep you posted on how Victor Oladipo and Will Sheehey and 2011 commitments Austin Etherington and Matt Carlino are performing at their respective schools. Here's our latest update:
+ Victor Oladipo: DeMatha moved to 6-0 with a pair of wins over Carroll (10 for Oladipo) and Benedectine (9 for Oladipo). The Stags are ranked No. 15 in the USA Today Super 25.
+ Will Sheehey: Playing in his first season at Sagemont, Sheehey returned from an ankle injury recently and scored 35 points in a 75-65 win Friday over Palmetto and had 10 points in a Saturday win over Gainesville Bucholz. Sagemont is 5-1.
+ Austin Etherington: Hamilton Heights (3-2) snapped a two-game skid with a pair of weekend road wins over Lewis Cass and Tri-Central. Etherington scored 35 in Saturday's win over Tri-Central.
+ Matt Carlino: Bloomington South continued its winning ways with a 72-43 win on Friday at Southport and a 54-42 win at home over Terre Haute North on Saturday. Carlino scored 18 points on Friday and five points on Saturday. The Panthers are No. 1 in Class 4A and No. 10 in the USA Today Super 25.
Other notables:
+ Cody Zeller: The Hatchets, No. 2 in Class 3A, moved to 5-0 with a pair of wins — 61-37 on Friday at Edgewood and 67-46 on Saturday against Forest Park. Zeller had 19 points in the Edgewood win.
+ Jeremiah Davis: The Muncie Central guard returned from a one-game suspension to score 14 points in a 70-64 home loss against Kokomo on Friday. The Bearcats are 2-2.
+ D'Vauntes Smith-Rivera: Smith-Rivera scored 10 points in a 83-79 North Central loss on Friday at Carmel.
+ Ron Patterson: The 6-3 Broad Ripple sophomore had 17 points and seven rebounds in a 82-48 Friday win over Indianapolis Ritter.
Filed to: Austin Etherington, Matt Carlino, Victor Oladipo, Will Sheehey