Know Thy Opponent: Maryland Terrapins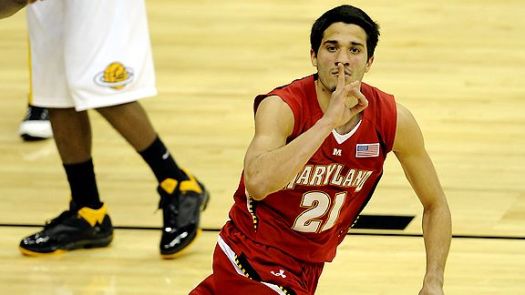 The best way to describe the tumultuous 2008-2009 season for the Maryland Terrapins is by the use of two words that are not often paired together: effectively inconsistent.
There were shining moments: A 84-71 first round NCAA Tournament win over California, an early season rout of national runner-up Michigan State and an 88-85 home overtime win on February 21 over national champion North Carolina.
And there were moments that were downright ugly: A war of words between school officials and Gary Williams, a home loss to Morgan State and a 85-44 beatdown at the hands of the Duke Blue Devils in Cameron Indoor Stadium.
If not for its wins over North Carolina and Michigan State, Maryland's 7-9 ACC record probably wouldn't have been enough to receive an at-large bid. But those victories, coupled with two conference tournament wins, pushed the Terps into the field of 64.
This year's Maryland team enters Assembly Hall on Tuesday coming off of back-to-back losses in the Maui Invitational to Cincinnati and Wisconsin. And their four wins, much like Indiana's three, are nothing to write home about: Charleston Southern, Fairfield, New Hampshire and Chaminade.
Senior guard Greivis Vasquez (pictured), who tested the NBA Draft waters following last season, is the top returnee for Williams. The 6-6 guard is struggling with his shot through six games (33 percent), but he's picked up where he left off a season ago at the foul line (83 percent) and also with distributing the ball (5.3 apg).
Joining Vasquez in the backcourt are 6-4 sophomore Sean Mosley (13.2 ppg, 4.7 rpg and 3.8 apg) and 6-4 senior Eric Hayes, who hit 86 percent of his free throws a season ago. Adrian Bowie, a 6-2 junior who started last season, is now coming off the bench and is shooting just 31 percent thus far.
Up front, 6-7 senior Landon Milbourne returns as Maryland's most dangerous threat on the block. Milbourne is leading the team with 13.7 ppg and is shooting 56 percent from the field. A pair of freshman, 6-9 Jordan Williams and 6-8 James Padgett, are leading the Terps in rebounding. Williams is averaging close to eight rebounds in 22 minutes and Padgett is pulling down 5.5 a game.
The strength of this team lies in taking care of the ball, experience and knocking down free throws. They've done remarkably well early with limiting turnovers — just 10.7 per game. But they've struggled from the foul line, hitting just 65 percent to this point, down from 76 percent a season ago. They're relatively undersized, which should bode well for the Hoosiers, who have had trouble defending the post.
All in all, this game should be a good barometer for Indiana to measure its progress since Puerto Rico. Maryland is significantly more experienced than IU, but they're also going to be playing in front of a crowd hungry for the first big win in the Tom Crean era.
Filed to: Maryland Terrapins