Austin Etherington talks first Hysteria experience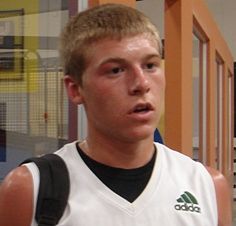 Austin Etherington, Indiana's second commitment in its 2011 recruiting class, spoke without hesitation when asked about his first Hoosier Hysteria experience.
"It was awesome," the Hamilton Heights junior guard said. "It's one of the first times I've been to Assembly Hall when it's been that packed and it showed what the fans are like and how much Indiana basketball is loved. It was pretty crazy."
Coming off a 6-25 season, Indiana drew a crowd of more than 13,000 for Friday night's opening practice. Etherington, ranked the No. 68 recruit in 2011 by Scout.com, said the big turnout speaks to the tradition of the program.
"It just goes back to the tradition that Indiana has from back in the day," he said. "People who have loved Indiana basketball are always going to love it no matter if they're winning or not. It just shows that the fans have your back and that they'll always be there for you."
The Hysteria visit was the second trip to Bloomington in recent weeks for the 6-6 guard, who averaged 16 points and seven rebounds in 15 games as a sophomore. He missed the first eight games rehabbing from knee surgery.
"I went down last week and played at open gym with Cody Zeller, Matt Carlino and the rest of the team," Etherington said. "It was good to play with all of the players. I'm trying to play with Matt more and make our relationship better."
Etherington and Carlino are Indiana's two commitments for 2011 and both are working on trying to get a third — Zeller.
"I actually text Cody quite a bit now and I know Matt's doing the same thing trying to get him to come play with us."
With his decision behind him, Etherington's focus will shift to his high school season, which tips off on November 25 against Lebanon.
"We've been working out for a couple months now," he said. "It's going really well just getting a lot of shots up and playing afterwards. Then I'm playing in a couple of leagues right now too so I'm playing quite often."
As for his future team in Bloomington, Etherington said he's expecting a much different story than a season ago.
"I know they're going to surprise some people. I think a lot of people know it's going to be a lot different than last year. They have a chance to have some big wins this year."
Filed to: Austin Etherington, Hoosier Hysteria