Tom Crean delivers high praise for incoming class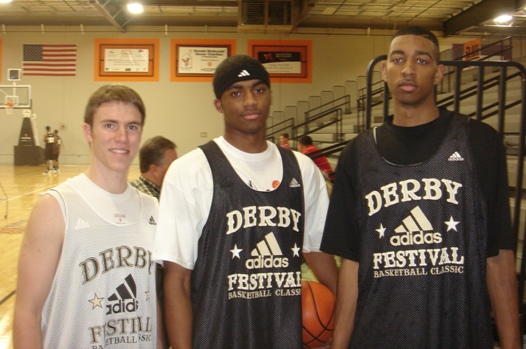 Given the situation inherited, the argument can be made that the 2009 recruiting haul made by Tom Crean and his staff was as impressive as any class in the country.
Before ever coaching a game at Indiana, Crean held on to a verbal commitment by Derek Elston given to the previous coaching staff and received commitments from five other players. Three of those players, Maurice Creek, Jordan Hulls and Christian Watford, were ranked among the top 50 prospects nationally by Scout.com.
When it was all said and done, IU signed a consensus top ten class last November in the aftermath of major violations less than a year before.
So it should be no surprise that Crean would sing the praises of the young men that he believes will, collectively, be the cornerstone of the rebuilding process in Bloomington. And last night, Crean did just that in these comments released by IU Media Relations:
Jordan Hulls
"That kid never accepted that he wasn't a college player, or that he might be a Division II player, and that he might be a low-major player, and that he might be a mid-major player. I don't think he ever accepted that. Something's telling me that kid always had his sights set pretty high."
Derek Elston
"The other guy that hasn't gotten nearly enough attention nationally is Derek Elston. That guy is one of those people, if he hadn't been injured out on that AAU circuit, there would have been a lot more things written about him. He's good, he's tough. And he wants to be really good."
Bawa Muniru
"This is a unique guy. He's had a lot of pitfalls in his life. A LOT of pitfalls. But that young man wants to be very, very successful. And I have very high optimism that he will be in time. He has a great attitude. If you've met him you know what I'm talking about. The first 10-15 minutes you're like, `is this kid for real? Is anyone that happy? Does anybody have a smile that wide?'"
Bobby Capobianco
"Bill Lynch has been very, very noble not to try to get that kid to be one of his tight ends, one of his linemen. He has that body. He doesn't have tremendous athleticism – that's not there yet. But he's got to have tremendous will. When he shows that will, shows that grit and that fight, and when he's got it you're going to see a guy that will really help us."
Maurice Creek
"He had to go through some hoops academically because his first couple of years weren't so strong, but he really rebounded the last couple of years of high school…right now, if you touch him with your index finger on his back he'll probably fall over because his body is so sore from the workouts that Jeff Watkinson is putting him through because he didn't have that this summer. Pretty soon that soreness will go away and he'll continue to take off."
Christian Watford
"One day he's running with the guards, the next day he's running with the swing guys, the next day we ran him with the big guys because we want him to be a complete player. One day he's being challenged to work on his turnaround jump shot, his up and under, the next he's being challenged to go through four people with dribbling the ball and crossovers. He's got a chance to be a very, very good player because of that versatility."
Filed to: Bawa Muniru, Bobby Capobianco, Christian Watford, Derek Elston, Jordan Hulls, Maurice Creek, Tom Crean