Davis could headline list of Hoosier Hysteria guests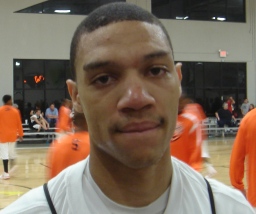 With only 22 days until the official start of practice, recruits are beginning to make plans to attend opening night practices at campuses across the country.
And Indiana will likely welcome one of its primary targets in the 2011 class to Hoosier Hysteria: Muncie Central point guard Jeremiah Davis.
"I'm pretty sure I'm coming to the madness (Hoosier Hysteria)," Davis, the No. 40 rated prospect by Rivals.com, told Inside the Hall on Wednesday. Davis said he was invited to the event by head coach Tom Crean and is finalizing plans to attend.
The 6-2 guard has welcomed coaches from Michigan State, Butler and Georgetown recently to watch his workouts at Muncie Central and expects a visit from Crean as early as Monday or Tuesday.
"It's a big sign of respect to my game. I'm really honored that schools come in and watch me play," he said.
Davis, a consensus top 50 player nationally after a strong summer at both guard positions for Indiana Elite, doesn't have a specific timetable for a decision, but mapped out the process on how he'll pick a school.
"I want to go through the X's and O's and find what's right for me. And then I'll make a decision," Davis said. "It may end around the school season, but anything can still happen."
Filed to: Jeremiah Davis