Victor Oladipo joins Indiana's 2010 class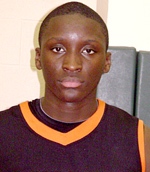 Prior to Thursday, 2010 DeMatha (MD) wing Victor Oladipo hadn't had a chance to tour the Indiana campus. After an official visit to Bloomington that began Thursday and ended Saturday, Oladipo informed the IU staff earlier today that he was ready to become a Hoosier.
"It was official today," Oladipo told Inside the Hall of his decision. "It just felt like it was perfect for me. The atmosphere and how Coach Crean leads his workouts. How they practice at a high tempo and do everything at a high energy type of level. That's definitely how I play and how I practice. I just felt like that's where I belong."
Oladipo joins Jacksonville (FL) forward David Williams as the second member of the 2010 class. The 6-4 wing said a big factor in his decision was the consistency with which Indiana recruited him.
"Indiana's been wanting me since December," he said. "They've been consistent with me. They kept telling me how much they wanted me and coming to all of my games. They wanted me the most. And I felt like that was a sign saying, you need to go there."
Oladipo also pointed to his relationship with freshman guard Maurice Creek and the fact that IU is known as a basketball school as two other important factors in his decision.
"That's my big brother," Oladipo said of Creek. "I've know him for a long time."
And the campus?
"The campus is huge. It's one of the biggest campuses I've seen so far. It's beautiful. It's like a basketball atmosphere everywhere you go. I drove around in the cart when Coach Crean was showing me around the campus and every second we were waving at someone. It's a basketball town. That's perfect."
Oladipo on his game:  "I definitely play above the rim and like going to the basket. And I like dunking, too. I'm ready to work on my outside game. It's good but it needs to be more consistent. I'm also working on my ball handling. It's good but it needs to be perfect. I'm just ready to work and get better."
Update: Here's a video feature from the Washington Post on Oladipo:
Filed to: Victor Oladipo