Jack Keefer takes a jab at Bruce Weber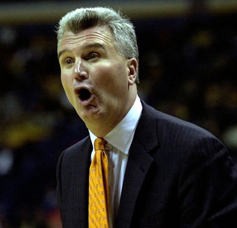 It's been a while since we've had the opportunity to have a little fun at the expense of Bruce Weber. So it was with great enjoyment that we learned of comments made by Lawrence North coach Jack Keefer regarding Weber on The Drive with JMV on Wednesday afternoon.
Keefer, as you may know, has jumped to the defense of Lawrence North after the parents of Dominique Ferguson and Justin Martin were critical of the academic progress of their sons at the Indianapolis high school. Both Ferguson and Martin have transferred to prep schools.
Besides defending Lawrence North, Keefer also voiced his displeasure with college coaches steering kids in the direction of prep school:
"There's two things I'm not liking right now. I don't like when people cut my school. And I don't like it when your colleges encourage people to go the prep route. Whether it's an Xavier or whether it's a Pitino, I don't care where it's at. The last two Mr. Basketball potential players out of Illinois have gone to Findlay Prep. Findlay Prep is a store front prep school in Las Vegas of all places. And Weber has sent them there from Illinois. I actually told Bruce, 'I don't know if I want you in my gym anymore. Because if you're going to take my best players and do that with them, then I have to give you a gut check here.' I'm just not sure that's the plan. That's not the plan the NCAA wants to be done, that's not the plan the high schools want to be done. You're getting into an area I'm just not comfortable with.
We applaud your honesty on this one, Coach Keefer.
Filed to: Bruce Weber, Jack Keefer