Q & A: Jeremiah Davis talks Elite Camp, recruiting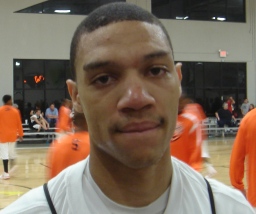 2011 Muncie Central guard Jeremiah Davis had one of the strongest summers of any player in the country. Davis, the No. 40 ranked prospect nationally in his class by Rivals.com, attended Indiana's Elite Camp on Saturday.
The 6-3 guard has offers from Indiana, Tennessee, Ohio State, Dayton, Cincinnati, Xavier, Ball State, Purdue and Miami (FL) and is hearing from Michigan State, Arizona and Kentucky. Inside the Hall talked to Davis about his experience over the weekend in Bloomington and got an update on where he stands in the recruiting process.
On the Elite Camp and what he took away from participating:
"I liked the camp a lot. It had a lot of competition. Coach Crean was very good at teaching and coaching us. I liked that part about the camp. We got to go up-and-down a little bit too. I could judge myself from the competition there."
On where stands with his recruitment:
"I could commit today, tomorrow or at anytime. I'm just trying to see what the right fit is for me and my family. The coaching style, the conference, what fits for me."
On where he sees himself fitting in at the next level:
"I would play the point but also I would play the off guard so I could make shots for myself and make shots for my teammates."
On the possibility of playing with 2011 commitment Austin Etherington at Indiana:
"He's talks to me and tries to persuade me to go to IU. Austin's a good buddy of mine so I'm definitely taking in what he says."
On upcoming trips to Bloomington or a potential trip to Hoosier Hysteria:
"I haven't heard anything about Midnight Madness (Hoosier Hysteria), but it'd be nice to go. I'm pretty sure I'm going to go down to a couple of football games."
On what former IU standout and New York Knick Jared Jeffries talked about during the camp:
"He talked about making it to the championship game against Maryland. He was from Bloomington and he wanted to give back to his community. He said after they beat a couple of teams to go to the Final Four, that night, there was like 50,000 outside in Bloomington waiting for them on their bus. He said the security guards had to tear gas some of the fans, that's how crazy it was."
On what former Marquette standout and L.A. Clipper Steve Novak talked about during the camp:

"Novak said he wasn't always the fastest or the strongest guy, but he was just a really hard worker. He said his freshman year (at Marquette) he was considering quitting, but he just kept pressing on and eventually he was the leading three-point shooter all-time in the Big East conference."
Filed to: Jeremiah Davis