Notes from Saturday's Elite Camp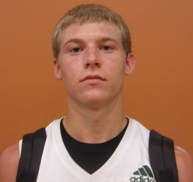 Here's what we've been able to piece together from Saturday's Elite Camp that took place at Assembly Hall:
+ Both of IU's 2011 commitments, Austin Etherington (pictured) and Matt Carlino, played well. Carlino's shot reportedly looked much better than it did over the summer.
+ 2011 Muncie Central guard Jeremiah Davis attended the camp and the buzz continues to be that IU is in great shape with him. Davis is an AAU teammate of Etherington on Indiana Elite Team Indiana.
+ Current NBA players Eric Gordon, Steve Novak and Jared Jeffries all attended the camp. Both Novak and Jeffries spoke to the campers and Novak was spotted in IU shorts.
+ 2012 campers: Lawrence Central's Jeremy Hollowell, Southport's Kellon Thomas, Bloomington South's T.J. Bell and Menomonee Falls (WI)'s J.P. Tokoto. Ron Patterson did not attend and D'Vauntes Smith-Rivera is spending the weekend taking unofficial visits.
+ 2013 campers: Jeffersonville's Darryl Baker and North Oldham (KY)'s Darryl Hicks. I had a chance to see both players over the summer and they both have a chance to be special. Jody Demling of The Louisville-Courier-Journal is reporting that Indianapolis Cathedral's Collin Hartman and Brent and Bryson Scott of Ft. Wayne Northup attended.
+ 2011 guard/forward Aaron Thomas from Cincinnati Aiken (OH) is in Bloomington this weekend, but we're not sure if he played in the camp. The IU staff followed Thomas closely in July at the Kentucky Hoopfest.
+ Indianapolis Pike's Marquis Teague did not make it to the camp and all signs continue to point toward Louisville for Teague.
+ 2011 Gary Lew Wallace standout Branden Dawson opted to attend Marquette's 'specialty' camp according to the Milwaukee Journal Sentinel. Significant here is that Dawson is considered a Purdue lean and the Boilermakers also held a camp of their own on Saturday. The Journal Sentinel report also claims that Michael Cobbins, Vander Blue, Reggie Smith, Jeremy Lamb and DeJuan Marrero attended the Marquette camp.
Filed to: Aaron Thomas, Austin Etherington, Branden Dawson, Brent Scott, Bryson Scott, Collin Hartman, D'Vauntes Smith-Rivera, Darryl Baker, Darryl Hicks, Dejuan Marrero, Eric Gordon, J.P. Tokoto, Jared Jeffries, Jeremiah Davis, Jeremy Hollowell, Jeremy Lamb, Kellon Thomas, Marquis Teague, Matt Carlino, Ron Patterson, Steve Novak, T.J. Bell