Around the Hall: So, will he or won't he?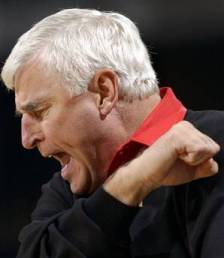 That's the million dollar question: Will Bob Knight attend his induction into the IU Intercollegiate Athletics Hall of Fame? The results of our poll to this point indicate that 55% of you don't think Knight is coming back to Bloomington. But what do others on the Internets think? Let's dive in …
+ Our very own Eamonn Brennan: The Dagger on Yahoo! Sports: Far as I can remember — and who knows what Knight's said in private — he's never said never to a return to Indiana. He just hasn't addressed the subject. And with a whole new batch of people in place, and a clear invitation not only from Indiana's fans but from the current administration itself, it wouldn't be that much of a leap.
Maybe Knight's still really angry, but if so, he's angry at the wrong things. The abstract, nebulous institution that is Indiana University didn't fire him. People did. Probably rightfully so. But if there was ever a time to forget those details and revel in honoring a fantastic (and fantastically flawed) college basketball coach, now is the time.
+ Chris Korman: Bloomington Herald-Times: Ignoring Knight — which had seemed to be the strategy until Tom Crean arrived on campus — was to partake in his tantrum. By pretending to have moved on more completely than it ever could have, the university was simply exacerbating the problem. No tension grows as thick as tension that is unspoken.
Now, it will break. Knight will come back. Or he won't. That's up to him. He'll send that message when he's ready.
+ Terry Hutchens: Indianapolis Star: When I spoke to several former IU basketball players on Saturday afternoon for a story that runs on Sunday in the Indianapolis Star, I got the impression that as a group they would like to see Knight come back to Bloomington and be honored. I think as a group they would like to all come back and be part of a big celebration to honor the man they truly love and respect. But while they would like to see that take place, I don't think anyone is holding their breath on this one.
While I believe IU is doing the right thing here by attempting to honor coach Knight as a member of the Indiana Athletics Hall of Fame, I also don't really think RMK will be back the first weekend in November for the induction and the introduction the next day at halftime of the IU-Wisconsin football game.
+ Dashiell Bennett: Deadspin: If there's justice in this universe, Knight will show up, hurl a chair into the audience, then give everyone the 'ol double deuce as he pisses in the punch bowl. Instead, he'll probably be gracious and humble and accept their symbolic apology with some class. Rats.
+ Kent Sterling: 1070 The Fan: In the end, though, Knight was a untethered renegade after John Ryan and Ralph Floyd were no longer his bosses.  Tom Ehrlich tried to corral Knight, and paid the price as Knight danced with New Mexico as a potential employer.  No one in Indiana needs another recitation of Knight's over the top behavior, so let's just say he behaved as though he was above consequence as he continually treated people inside and outside Assembly Hall with disdain.
Does Bob Knight belong in the Indiana University Athletic Hall of Fame?  Absolutely.  If any coach belongs in a hall of fame, it's Bob Knight.  If he shows up and expresses a respect for his employer of 29 years, that would bring a fitting and appropriate closure to his career at IU.  It would give his former players and fans a chance to say thanks with an ovation that would echo through Assembly Hall for years.  If he doesn't show up, it would be typical behavior from a man who has spent a lifetime playing by his own rules and answering to no one other than the man he sees in the mirror.
Filed to: Bob Knight