Could Rick Pitino's indiscretions put Marquis Teague back into play?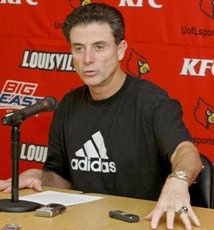 Until recently, the idea of prized 2011 Indianapolis Pike guard Marquis Teague playing college basketball somewhere other than Louisville was hard to imagine.
Teague's father, Shawn, played for Louisville coach Rick Pitino at Boston University. And after the Louisville coach passed on Marquis' older brother Jeff, a NBA first round pick this past June, Pitino and his staff set their sights on the younger Teague as the cornerstone for their 2011 class.
But the whispers of a Teague commitment to Louisville have all but gone silent after The Louisville Courier-Journal revealed last week that Pitino admitted to having sex with Karen Sypher and then paid her $3,000 for health insurance which was used for an abortion.
And while Louisville Athletic Director Tom Jurich and President James Ramsey have publicly backed Pitino following his public apology last week, this story still has twists and turns to navigate further. There are pending federal charges against Sypher for attempting to extort up to $10 million from Pitino. Until Sypher's trial is resolved, she's perfectly capable of doing even more damage to Pitino's crumbling reputation.
So where, you ask, does Marquis Teague fit into this equation? For now, Shawn Teague told Jody Demling last week that the latest Pitino news changes nothing in his son's recruitment:
"It hasn't changed a thing for us. Of course, I want to see some things fall out a little bit more. Things happen and things can change – even with this situation – and we still have to look to see if anything is going to happen as a result of what did happen. But in terms of who Rick Pitino is and how I feel about him and how my family and Marquis feel about him, there's no change in that whatsoever."
With the uncertainty of Pitino's job status moving forward and two years of high school remaining for Teague, it's hard to imagine a commitment to Louisville being anything close to imminent. Which puts Indiana and other schools in position to continue making a push for Teague while Pitino tries to convince the guard and his family that he'll be in Louisville two years from now. Consider the recruitment of Teague far from over.
Filed to: Marquis Teague, Rick Pitino