Etherington makes the call: It's Indiana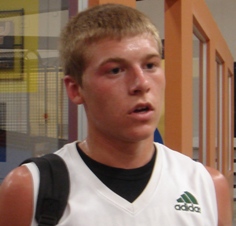 When Austin Etherington met with a small group of reporters following Indiana Elite Team Indiana's opening game of the July evaluation period in Cincinnati, the 2011 wing had no timetable for making a decision on his college destination.
Indiana, Xavier and Butler were hot in pursuit and interest in the Hamilton Heights standout was quickly gaining momentum. Fast forward one month and Etherington is the second member of Indiana's 2011 recruiting class.
Inside the Hall caught up with Etherington on Monday evening following his commitment for a Q & A:
On the decision to commit early to Indiana:
"I knew that I wanted to stay close because of my family. The only schools that I was really waiting on were out of state schools. I knew that I needed to go ahead and get it over with and I knew that I wanted to go to IU so I didn't want to wait any longer."
On the moment he realized he wanted to go to Indiana:
"When I went there for the visit, I loved the campus and the whole coaching staff. I just didn't know how to react because the whole process was new. When I was in Las Vegas, I started telling myself I wanted to go to IU because I knew that's what I wanted to do. When I got back I talked to my dad and my family and they felt like it was the right choice for me."
On delivering the news of the commitment to Tom Crean:
"I called him today and just told him. He was real excited because he's always been wanting to coach me. So now that he gets the chance to he was real happy and ready to coach me."
On what he'll need to work on the next two years and where he sees himself playing at the next level:
"I'm just going to work hard and get better at every aspect of my game. I'm going to prove myself that I'm capable of playing there and just become the best player I can be. I'll probably play the two or the three. Hopefully, it's the two but I need to work on my ball handling and be able to guard the two and work on that."
Filed to: Austin Etherington