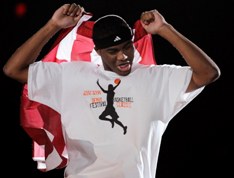 If you haven't noticed, it's a slow news time around these parts. The summer AAU evaluation periods wraps up at the end of this week, football is about to start and the countdown to Hoosier Hysteria is about to begin.
In the spirit of keeping the discussion fresh, it's time for … wait for it … an open thread. Today's topic: Which incoming freshman will make the biggest impact?
There are a lot of factors to consider here. Primarily, it's going to be your call on how to define impact. If you're going to define it by stats, you're probably going with Christian Watford or Maurice Creek. If you're going to define it by bringing a winning attitude to the program, you're going with Jordan Hulls. If you're going with toughness and grit, you're going Derek Elston or Bobby Capobianco. Or if you're going with the potential to morph into Hasheem Thabeet, you're going Bawa Muniru.
Show your work, boys and girls. And remember, Jeremiah Rivers is not a freshman.
Filed to: Bawa Muniru, Bobby Capobianco, Christian Watford, Derek Elston, Jordan Hulls, Maurice Creek