Stacey Poole talks Indiana, ascent in rankings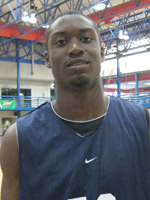 After his performance at the NBA Top 100 Camp in Charlottesville, VA, last month, Jacksonville's Stacey Poole found himself with an extra star beside his name on the Rivals.com top 150 for 2010. A fifth-star, to be exact.
For Poole, who's playing this summer with the Jacksonville Lee Bulls, the accolade was based more on being watched closely by national scouts than his performance.
"I've just been seen more," Poole told Inside the Hall from the Breakdown Hoopfest in Miami, FL. "I'm not surprised at what I'm doing. Not at all. Something I'm doing, they like. They like how I have that energy. I bring it on the court."
Poole, the son of former McDonald's All-American and Florida star Stacey Poole Sr., says he is still wide open in the recruiting process. His list includes Indiana, Clemson, Florida, Xavier, Oklahoma, South Carolina and Miami (FL). Connecticut and Louisville have recently expressed interest and are evaluating the 6-6 guard this summer.
"Right now, I'm just playing out my AAU season. I'm open," he said of the recruiting process.
Poole said he plans to visit Bloomington in August. But even though he's yet to take a visit, Poole has a good feel for the Indiana program and is building a solid relationship with assistant coach Bennie Seltzer, who played in the CBA at the same time as Poole Sr.
"It's a big basketball school, not really a football school," he said. "Everything's based on basketball at Indiana. I've got a nice feel for Coach Seltz. He's a real good guy."
Regardless of his destination, Poole highlighted a few factors that will be on the top of his mind when he makes a decision.
"Style of play, building a relationship with the coaches," Poole said. "You want to enjoy where you're going to be at."
With college coaches out in full force watching him during the current July evaluation period, the Andrew Jackson HS star is letting his play do the talking and tries to ignore who is watching.
"I just concentrate on my game. I know they're going to be there so I just have to play my game and make them more interested."
(Photo credit: Scout.com)
Filed to: Stacey Poole