Zeller keeping his focus on the court, not in stands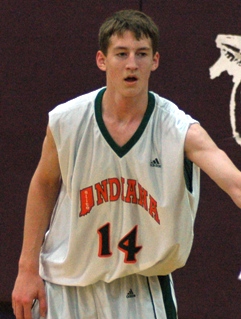 During the first week of the July evaluation period, it's easy for any 16-year old to get caught up by the faces in the crowd. For Washington (IN) big man Cody Zeller, worrying about who is watching does nothing to help his game.
"If you try to impress them, you'll play awful. I just try to play my game," Zeller said after a pool play game in Louisville at the Hoopfest where 19 college coaches watched from the baseline. "I play in front of 7,000 people at my high school games, so I'm used to a lot of people watching."
The 6-9 Zeller, who holds offers from Indiana, Purdue, Iowa, Butler and Florida, is unusually well-coordinated for a kid his size, can finish in traffic with either hand and often beats his man up and down the floor.
"I've just grown in the last year or two," he said. "I was 6-5 my freshman year. I was a point guard in junior high, so I've always been able to run the floor real well."
Zeller, accompanied by his brother Luke, recently got the chance to play pick-up games in Bloomington with many of Indiana's returning players and some of the incoming freshman during an unofficial visit.
"They've got some good freshmen coming in," Zeller said. "I was impressed with quite a few of them. They've got some good guys in there so they can build a good team."
Zeller says he is still in the early stages of the recruiting process and doesn't have a timetable for a decision. On June 15 when college coaches were able to contact him by phone, mail and email, he received 7 or 8 phone calls and 15 to 20 emails.
"I'm still a long ways away. I'm looking into it more," he said of the recruiting process. "I'm getting to know the coaches and stuff."
Filed to: Cody Zeller