Carlino talks Indiana Elite chemistry, Bloomington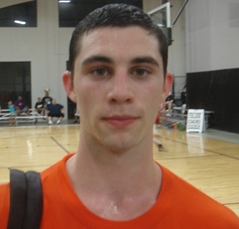 Indiana Elite One Orange is on a roll at the Kentucky Hoopfest.
After going 3-0 in pool play, the Elite team featuring Matt Carlino, Marshall Plumlee, Cody Zeller and Spencer Turner rolled into Sunday's quarterfinals with a 77-54 win over Indiana Select.
Carlino scored 16 points and played an excellent floor game splitting time between the point and off-guard positions.
"It's going well. Everyone is coming together really well as a team," Carlino said. "A lot of it is coaching. It's fun beating people too. It's just really fun playing with good players. It's a lot easier to look better and make better decisions even."
Carlino, who played high school last season in the Phoenix area at Highland, moved to Bloomington in late May. He'll enroll this fall at Bloomington South. He says one of the advantages of the move will be an increased level of competition.
"Everyone's always playing," he said. "There's good competition everywhere in the summer. It's really good year round. Bloomington's just a great place to live in general."
Having never been to a game at Assembly Hall, he's also looking forward to taking in a game or two next season at his future school.
"I've never been to a game at Indiana, so this year, obviously, I'll try to go to one or two," Carlino said.
For now, after a long week of games in Cincinnati at the It Takes 5ive Classic and four games in three days at the Hoopfest, Carlino and his Indiana Elite teammates are planning to rest on Saturday and celebrate Turner's birthday.
"Everyone's so tired at this point. I'm running on adrenaline right now," he said.
Filed to: Matt Carlino