Youngest Plumlee continues to grow game, interest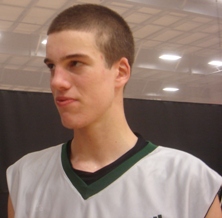 After watching his two older brothers, Miles and Mason, go through the recruiting process, Marshall Plumlee has a pretty good idea of what to expect.
The youngest Plumlee, a 2011 center who attends the Arden Christ School in North Carolina, has impressed coaches this spring and summer with high intensity play. Scout.com recently ranked him the No. 35 prospect nationally in his class.
His Indiana Elite One Orange team attracted 19 coaches this morning at the Kentucky Hoopfest, including Indiana assistant Tim Buckley.
"It's exciting, but we have a saying, 'we just try and put the horse blinders on and go to work.' It's hard to ignore it completely, but we're just here to win, get better and have fun," Plumlee said.
Seven schools — Notre Dame, Indiana, NC State, Minnesota, Virginia, LSU and Florida — have offered the 6-11 junior-to-be. With a size 18 shoe, Plumlee thinks his feet are done growing but he's still hoping to reach the seven-foot mark.
"I'm not ready to make the seven-foot claim yet. I'll keep drinking my milk and when I hit it, I'll be excited," Plumlee joked. "They told Miles he was going to be 6-2 and he's 6-9, so I don't know. Our family, we're a bunch of weird dudes."
Notre Dame was the first school to extend an offer, but Indiana is the only school that Plumlee has visited so far. And he's looking forward to keeping a close eye on the Hoosiers during the upcoming season.
"I feel like I've gotten to know them pretty well," Plumlee said of the IU coaching staff. "I know them a little bit more on a personal level. They're great guys, great coaches and they have amazing plans for IU. I can't wait to watch them and how well they do this year. They've got a great program there and I'm glad to see they landed a quality coach like Coach Crean."
Scouting Report: At this particular stage of his development, Marshall is more polished than his two older brothers. His intensity rubs off on his Indiana Elite teammates and he's developed a solid arsenal of post moves that allow him to finish with his right and left hands. His coordination and agility for a player of his size are excellent. On the defensive end, he's an intelligent player that alters shots frequently without committing unnecessary fouls.
Filed to: Marshall Plumlee