Kentucky Hoopfest: Day One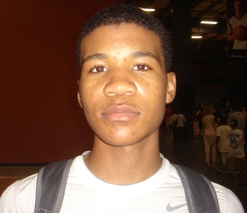 The Kentucky Hoopfest kicked off Thursday in Louisville and Inside the Hall attended the evening session at Hoops and Basketball Academy.
+ Among the coaches in attendance: Tom Crean and Tim Buckley; Michigan State's Tom Izzo; Butler's Brad Stevens; Xavier's Chris Mack and assistants from Ohio State, Tennessee, Iowa, Wisconsin and Purdue.
+ At Hoops, the Spiece Indy Stars crushed Indiana Swish Orange. This Spiece group was coming off a tournament win at the Hoosier Shootout and Broad Ripple's Ron Patterson, Lawrence Central's Jeremy Hollowell (pictured), Southport's Kellon Thomas and Avon's Austin Burgett were all impressive. You'd be hard pressed to find a stronger group of 15-year olds.
Hollowell confirmed that Indiana is ready to make an offer, but it won't be official until his mother gets a chance to be there for the occasion. Iowa and Cincinnati have offered. Hollowell is 6-5 (and still growing) and said he enjoyed his time last month at the Indiana Elite Camp.
Thomas, a strong point guard that can also shoot it, is getting looks from Indiana, Iowa, Oregon State, Minnesota, Xavier, Michigan State, Purdue and Butler. He also attended the Elite Camp and had this to say about that experience: "It was a good camp. Coach Crean is very intense. It was one of those camps where you get better. It was hard. There were a lot of good players there."
Burgett picked up his first major offer a couple of weeks ago from Cincinnati, but has no leader at this point. "I'd say everybody is about medium. I don't think I'm going to decide until my junior year." After watching Burgett at the AMC in May and again today, his game resembles Purdue's Robbie Hummel.
Patterson reeled off a list of seven offers – IU, Illinois, Purdue, Depaul, Xavier, Ohio State and Tennessee. The 6-3 guard plans a decision sometime after his sophomore season.
+ At Basketball Academy, Indiana Elite Team Indiana cruised past the Kentucky Blazers behind the play of Xavier commit Darwin Davis, Muncie Central's Jeremiah Davis and Hamilton Heights' Austin Etherington. But the best player on the court might have been 6-7 Cincinnati commitment Chane Behanan who recently moved to Bowling Green, Kentucky and is playing with the Kentucky Blazers.
Crean and Buckley watched on the baseline as Jeremiah Davis continued his solid play from earlier in the week and Etherington solidified the vote of confidence Scout.com gave him in their recent 2011 rankings.
Up next: Friday morning we'll get a look at 2013 Jeffersonville guard and IU Elite Camper Darryl Baker and Indiana Elite One Orange featuring Matt Carlino, Cody Zeller, Marshall Plumlee and Spencer Turner. Follow Inside the Hall on Twitter for updates.
Filed to: Austin Burgett, Austin Etherington, Chane Behanan, Darwin Davis Jr., Jeremiah Davis, Jeremy Hollowell, Kellon Thomas, Ron Patterson