It Takes 5ive opens July evaluation period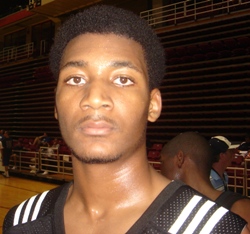 A who's-who of college coaches arrived in Cincinnati Monday for the opening of the July evaluation period at the adidas It Takes 5ive Classic.
Among the coaches spotted: Tom Crean and assistants Tim Buckley and Bennie Seltzer; Louisville's Rick Pitino, Walter McCarty and Steve Masiello; UCLA's Ben Howland; Kentucky's John Calipari; North Carolina's Roy Williams; Ohio State's Thad Matta; Minnesota's Tubby Smith; Michigan's John Beilein; Arizona's Sean Miller; Memphis's Josh Pastner; Notre Dame's Mike Brey; Michigan State's Tom Izzo; Maryland's Gary Williams; West Virginia's Bob Huggins and Georgetown's John Thompson III.
Inside the Hall spent the day bouncing back and forth between the Fifth Third Center and the Campus Recreation Center and here are our observations:
+ The jury is still out on David Williams: The 6-7 lefty (pictured), IU's lone commitment from the 2010 class, started the day slow as he failed to score in the Atlanta Celtics opening contest. Williams told us he wasn't happy with his play in that game and looked much better in the afternoon in a 10-point effort. Offensively, Williams has a long way to go to become a scorer at the Big Ten level. He often looked out of rhythm offensively and needs to become more assertive. In July, the best players tend to stand out and make a name for themselves. Today, we simply didn't see that from Williams.
+ Strong performances from Indiana Elite's Matt Carlino, Cody Zeller and Marshall Plumlee: Carlino looked much more comfortable than he was in May and looked like a player that can make an impact at the next level. His court vision and ball handling were both excellent.
Indiana's early recruiting efforts with Zeller and Plumlee could pay huge dividends down the road. Although both players are still growing into their bodies and need to add strength, the skill set is there to rise to the five-star level. Zeller was strong around the basket and ran the floor well. Plumlee looked to be a legit 6-11 and is coming into his own offensively.
Clearly the buzz about Zeller and Plumlee is spreading: Buckley, Williams, Donovan, Beilein, Miller, Brey, Smith, UK assistants Rod Strickland and Orlando Antigua, Duke assistant Chris Collins and Kansas assistant Danny Manning all watched Indiana Elite closely in their afternoon game. Presumably most eyes were on the 2011 big men.
+ Indiana is high on Austin Etherington: The coaching staff had a strong presence at both games of the Hamilton Heights wing. Buckley watched his morning game and Crean was there to see him in the early afternoon. Etherington declared himself 100% healthy and said his offer from IU came just a few days after the Elite Camp wrapped up. Not only can Etherington shoot, he can also finish off the dribble. As he continues to get more comfortable this summer, his performances should get even better.
+ Fabricio de Melo draws a crowd: The seven-footer from Brazil was the most notable recruit in the event and he didn't disappoint. He's raw, but has the skill set to be a big time player.
+ Dunk of the day: The award goes to 2010 guard and Tennessee commit Jordan McRae, a teammate of Williams on the Atlanta Celtics. McRae threw down a powerful dunk in traffic that turned plenty of heads. IU was heavily recruiting the Georgia native before he pledged to the Volunteers last September.
+ A new name to keep an eye on: 6-6 2012 forward Kenny Kaminski from Medina high school in Ohio is on the Indiana radar.
+ Change of clothes, please: Apparently the boat shoes and khaki shorts weren't getting it done for Calipari. That's what we saw the UK coach wearing in the morning session, but he showed up in khaki pants and brown dress shoes in the afternoon. First time I've ever seen a coach change clothes mid-day at an AAU event.
Up next: The Kentucky Hoopfest in Louisville on July 9-12. Follow us on Twitter for updates.
Filed to: Austin Etherington, Cody Zeller, David Williams, Kenny Kaminski, Marshall Plumlee, Matt Carlino, Tom Crean