Tom Crean talks recruiting, kind of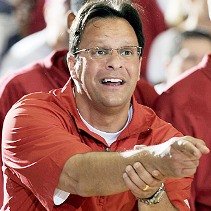 With the uncertainty of the scholarship situation going forward, it was only a matter of time until the questions started on the availability of grants for future recruiting classes.
In Wednesday afternoon's press conference, Tom Crean was asked about IU's recruiting efforts by Herald-Times beat writer Chris Korman. Here's a transcript:
Korman: You obviously don't have too many scholarships for the next couple classes, but there seems to be a fair amount of offers out there. How do you manage those?
Crean: We just do. We're constantly recruiting. We're constantly recruiting.
Korman: If you have a kid, is there pressure on them if they're a 2011 kid and they know, some of them we've talked to they say, 'IU doesn't have any scholarships.'
Crean: Are they saying that or are you saying that?
Korman: Well, they're saying that to us. 'Yeah we know that IU doesn't have any scholarships.'
Crean: Okay. I'm not going to go far into that. We know what we're doing in recruiting. You know, I read in a situation like where you put out that I didn't think were real accurate on that in one of your recent stories with that. I'm not going to go very far into that. We're going to recruit. We're going to recruit and I'm not going to come in and explain every offer nor could I, you know, legally. We're going to recruit, we're going to do what's best to make this program as successful as it can be. And if you use sources that are wrong, well that's on you. We're pretty locked in to what we're able to do in the sense of what we can say and what we can't say. I appreciate the attempt at the hypotheticals, but we're going to recruit the way we recruit. And you mention the word pressure, I don't think we're a pressure staff. I think where those things come up is if there's a timing issue with other recruits. But again, that's all part of it. I think for the last 14 or 15 months I've been pretty open on recruiting and I hope to continue to do that. But we're also going to recruit the best way we see fit inside of the program. We have our own expectations in here that we have to fulfill.
Korman: It's just such a mysterious process for us and for readers.
Crean: Well, what's mysterious about it? There's scholarships, there's offers, a lot of things change. A lot of things change inside of years. I'd like to say you always have to be prepared, which you do, but you have to be very diligent in your approach to recruiting. And I think it's not, it's never serving the best needs of Indiana basketball, the future of it, to come in and discuss hypotheticals. It's just not.
—
Before I dive into this, I first want to throw out that I'm friends with Chris Korman. But I would also have no problem telling Chris if I disagreed with him.
First off, Korman is one of the few guys around the program who will ask the questions that need to be asked. He did it with Kelvin Sampson and he's doing it with Crean. Good for him. It's his job.
I've been around AAU plenty this spring and he's absolutely right when he says there are kids who are concerned about the scholarship situation moving forward. They talked about it during the spring and I'm sure we'll hear more about it in July. It's a legitimate question. The numbers speak for themselves.
(Photo credit: Fannation.com)
Filed to: Tom Crean