Bawa Muniru not reporting to Bloomington … yet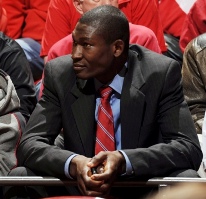 At long last, an update on the most mysterious of Indiana's six 2009 signees, Bawa Muniru.
With four of his classmates already on campus, Muniru still has an obligation in the classroom and will report to Bloomington in July.
Chris Korman of the H-T/Hoosier Scoop got the details from Bawa's AAU coach, Kerry Johnson:
Muniru has one summer class to finish, according to his AAU coach Kerry Johnson and his guardian Brian Privett.

"My understanding is that once he has completed that he will have done everything he needs to do to qualify," Johnson said. "Everything right now points to him being eligible."
Questions about Muniru's eligibility began to arise after he transferred to Mt. Zion Academy because the NCAA said it wouldn't accept grades from Charis Prep. Muniru played three seasons at Madison Academy in Alabama before leaving for Charis Prep.
If the reports from his AAU coach and guardian are indeed accurate, the concerns about Bawa's eligibility will be squashed. But when dealing with the NCAA, the process of clearing a student athlete can be time consuming and at times, complicated.
Filed to: Bawa Muniru